Return to Headlines
Westonka DECA Advances 155 to State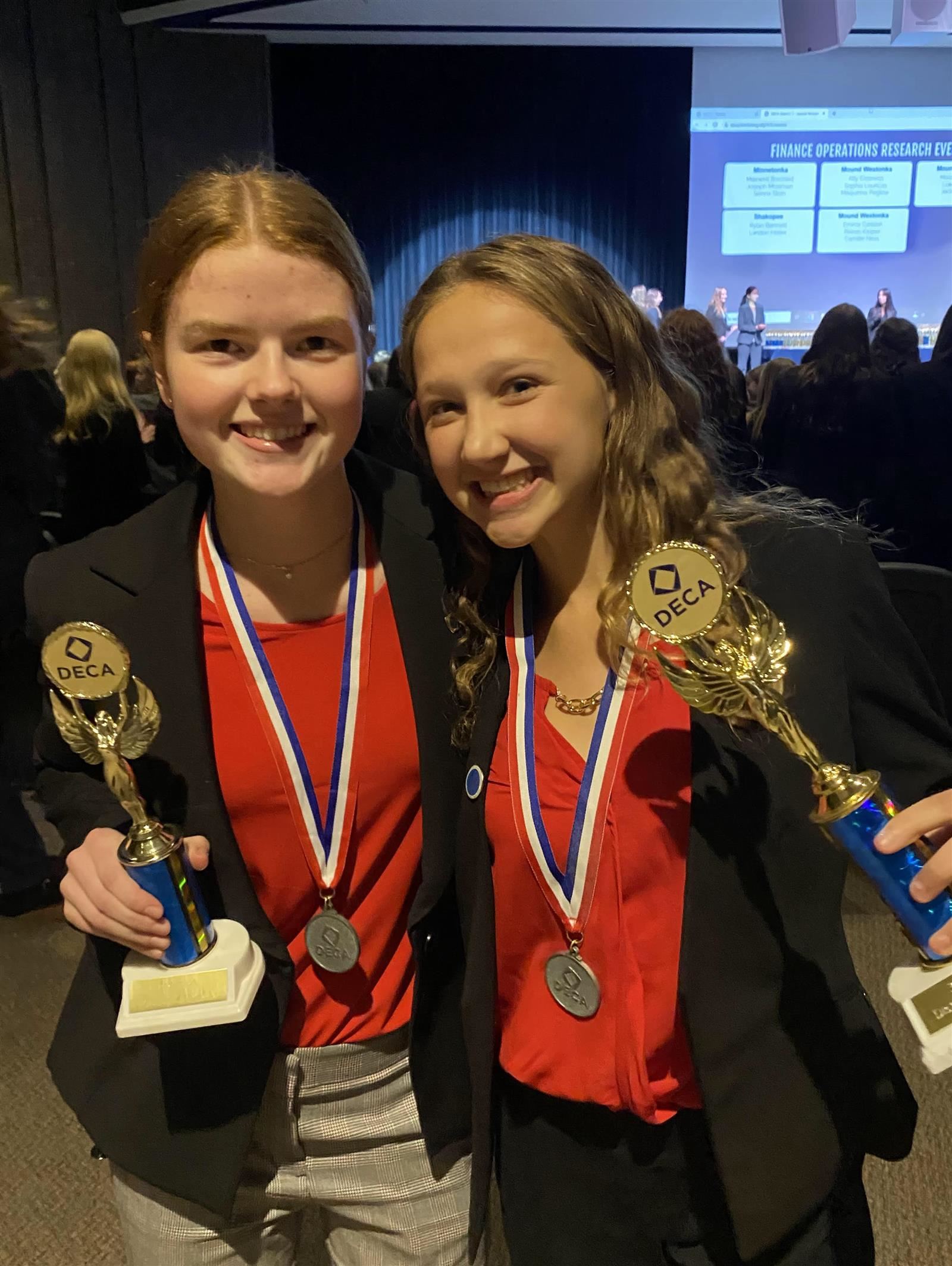 January 12, 2023 — Westonka DECA will advance 155 students to this year's state DECA competition, following a very competitive showing at the District III DECA Conference Jan. 8 at Jefferson High School in Bloomington.
Mound Westonka competes in DECA District III along with The Blake School and Bloomington Jefferson, Cooper, Edina, Minnetonka, Prior Lake, Richfield and Shakopee high schools. There are 682 students in the DECA District, meaning that 12 students in each event advance to state. MWHS was entered in 44 of the 45 events held at the district level, with 181 students competing.
Westonka DECA members placed in the Top 12 in 42 of their 44 events and placed in the Top 3 in 26 events. Westonka earned 15 first-place, 11 second-place and 14 third-place honors.
Westonka DECA advisor Alex Wagner said, "We are incredibly proud of all competitors' hard work and are very excited for the state competition in March!"
The 2023 DECA State Career Development Conference will be held March 5-7 at the Hyatt Regency Minneapolis, where over 3,000 DECA students from across Minnesota will compete.
Participation in DECA develops leadership skills, management skills, civic consciousness, job responsibility, motivation to excel, good work habits, critical thinking and problem solving. DECA is advised by Wagner, Sue Simonson, Lizzie Williams and Nelson Krause.
View photos from the DECA District III competition
2022 MWHS DECA DISTRICT RESULTS
High Test Score Medals
Seniors Laura Sunnarborg, Ellen Pruitt and Logan Kevitt, and junior Natalie Miner
Apparel and Accessories Marketing Role Play
Abby Hollenstein (12) - 1st place
Kendra Mattson (11) - 2nd place
Hannah Christenson (9) - 4th place
Lauren Velander (10) - 5th place
Business Services Marketing Role Play
Ellen Pruitt (12) - 1st place
Caryn Childers (11) - 3rd place
Bryce Helms (11) - 6th place
Entrepreneurship Role Play
Elliott Lang (10) - 10th place
Addison Nash (11) - 11th place
Brayden Gillen (11) - 12th place
Food Marketing Role Play
Stella Miner (10) - 5th place
Annika Hoisington (12) - 9th place
Maisie Wheeler (11) - 11th place
Hotel and Lodging Management Role Play
Brooklyn Jansen (12) - 7th place
Grace Ruud (12) - 8th place
Anna Borg (10) - 10th place
Sophia Reimer (10) - 11th place
Human Resources Management Role Play
Gwendolyn Roux (12) - 1st place
Anna Olson (11) - 3rd place
Hanna Emery (12) - 4th place
Marketing Communications Role Play
Brekken Thompson (12) - 3rd place
Paige Ostrowski (12) - 4th place
Braeden Trundle (10) - 5th place
Devon Simpson (9) - 9th place
Personal Financial Literacy Role Play
Graham Taets (12) - 3rd place
Harry Hopkins (12) - 5th place
Luke Leonard (12) - 6th place
Noah Huesmann (9) - 7th place
Jagger Wittine (10) - 8th place
Quick Serve Restaurant Management Role Play
Michael Oftedahl (11) - 3rd place
Mia Abernethy (9) - 7th place
Gab Larsen (11) - 8th place
Zoe Lada (11) - 10th place
Gavin Lamey (9) - 12th place
Restaurant and Food Service Management Role Play
Laura Sunnarborg (12) - 1st place
Rowen Koubsky (12) - 3rd place
Olivia Adam (11) - 5th place
Linsey LeMire (11) - 8th place
Anna Wood (11) - 10th place
Retail Merchandising Role Play
Marissa Nelson (11) - 4th place
Payton Kasper (12) - 5th place
Mason Evenson (12) - 7th place
Sydney Reier (9) - 10th place
Sports & Entertainment Role Play
Ali Butler (9) - 4th place
Avery Roerig (12) - 8th place
Suzie Marth (9) - 10th place
Mason Merritt (9) - 11th place
Principles of Business Management and Administration Role Play
Marshall Morrison (11) - 9th place
Luke Sunnarborg (9) - 11th place
Luke Carlson (10) - 12th place
Principles of Hospitality and Tourism Role Play
Charlie Paul (11) - 1st place
Maria Sells (9) - 12th place
Buying and Merchandising Team Role Play
Sam Holmberg (11) & Logan Kevitt (12) - 3rd place
Piper Landsman (10) & Charlotte Mitlyng (10) - 4th place
Emma Carlson (10) & Camille Ness (10) - 7th place
Alicia Clobes (10) & Maya Lada (10) - 11th place
Entrepreneurship Team Role Play
Dylan Mather (12) & Ambrose Neumann (12) - 2nd place
Jackson Briggs (12) & Jacob Trost (12) - 5th place
Cassie Nemecek (11) & Claire Rashleger (10) - 10th place
Fletcher Anderson (12) & Mac Harmer (12) - 11th place
Financial Services Team Role Play
Savanna Newell (12) & Maureen Reily (12) - 2nd place
Alaina Mather (12) & Megan McFadden (12) - 7th place
Matthew Uhas (12) & Rocco Zahasky (11) - 8th place
Alex Rice (9) & Lauren Russ (9) - 9th place
Audrey Kirscht (10) & Sara Sipprell (10) - 10th place
Hospitality Services Team Role Play
Alexa Leonard (10) & Gracie O'Halloran (10) - 3rd place
Sara Funderburk (12) & Gretta Pioske (12) - 8th place
Marketing Communications Team Role Play
Piper Kimbrel (11) & Hailey Lockwood (11) - 6th place
Avery Olson (10) & Maquinna Peglow (11) - 11th place
Sports & Entertainment Team Role Play
Sammy Krahl (11) & Natalie Miner (11) - 1st place
Jack Hall (11) & Jack Moch (11) - 4th place
Travis Pellett (12) & Reese Vanderwilt (12) - 8th place
Ally Eidsness (11) & Sophia Louricas (11) - 11th place
Travel and Tourism Team Role Play
Rachel Erickson (11) & Sage Finck (11) - 9th place
Ethan Garlock (12) & Daniel Kaczanowski (12) - 10th place
Michael Proulx (11) & Johnny Range (11) - 11th place
Integrated Marketing Campaign – Event (Paper)
Stella Miner (10) & Natalie Miner (11) - 1st place
Logan Kevitt (12), Graham Taets (12) & Matthew Uhas (12) - 4th place
Audrey Bernal (12) - 7th place
Maxwell Buescher (12) & Dylan Mather (12) - 11th place
Edie Hollenstein (9) & Maria Sells (9) - 12th place
Integrated Marketing Campaign – Product (Paper)
Allison Dominy (11) & Peyton Schmidt (10) - 7th place
Sam Kluever (12) & Simon James (12) - 9th place
Brooklyn Jansen (12) & Grace Ruud (12) - 10th place
Integrated Marketing Campaign – Service (Paper)
Ellen Pruitt (12) - 1st place
Abby Hollenstein (12) - 3rd place
Ethan Garlock (12), Mac Harmer (12) & Ambrose Neumann (12) - 6th place
Alexa Leonard (10), Gracie O'Halloran (10) & Sophia Reimer (10) - 10th place
Connor Esposito (11), Tanner LaRue (11) & Rylee Sparks (12) - 12th place
Start-Up Business Plan (Paper)
Jack Hall (11), Bryce Helms (11), & Jack Moch (11) - 3rd place
Jackson Briggs (12), Jack Markstrom (11) & Jacob Trost (12) - 7th place
Hailey Lockwood (11) & Chloe Rice (11) - 12th place
Franchise Business Plan (Paper)
Ali Butler (9) & Allison Kreiser (9) - 1st place
Lindsay Alvig (12), Sara Funderburk (12) & Gretta Pioske (12) - 2nd place
Independent Business Plan (Paper)
Fletcher Anderson (12), Hanna Emery (12) & Payton Kasper (12) - 6th place
Kylee Pierson (10) & Trysten Rogstad (10) - 9th place
Megan McFadden (12) - 11th place
Hospitality & Tourism Professional Selling
George Pettitt (9) - 6th place
John Seckinger (9) - 7th place
Adrianna Sullivan (10) - 10th place
Professional Selling Event
Brekken Thompson (12) - 9th place
Tristan Trundle (12) - 10th place
Caryn Childers (11) - 11th place
Financial Consulting Professional Selling
Tor Erdahl (10) - 8th place
Jagger Wittine (10) - 9th place
Savanna Newell (12) - 10th place
Dillon Peterson (9) - 12th place
International Business Plan (Paper)
Noah Huesmann (9) - 10th place
Business Services Operations Research (Paper)
Sammy Krahl (11) & Kendra Mattson (11) - 2nd place
Sage Finck (11), Zoe Lada (11) & Anna Olson (11) - 3rd place
Daniel Kaczanowski (12), Travis Pellett (12) & Reese Vanderwilt (12) - 5th place
Buying and Merchandising Operations Research (Paper)
Rachel Erickson (11), Piper Kimbrel (11) & Cassie Nemecek (11) - 1st place
Ellie Putnam (10) - 2nd place
Georgia Harmer (9) & Sydney Reier (9) - 3rd place
Brayden Gillen (11) - 6th place
Financial Operations Research (Paper)
Ally Eidsness (11), Sophia Louricas (11) & Maquinna Peglow (11) - 2nd place
Emma Carlson (10), Payton Kasper (12) & Camille Ness (10) - 3rd place
Mason Evenson (12), Luke Leonard (12) & Jack Peterson (12) - 4th place
Hospitality & Tourism Operations Research (Paper)
Alissa Brandt (11), Michael Proulx (11) & Johnny Range (11) - 1st place
Max Anderson (11), Ryan Hempel (11) & Colter Applegate (11) - 2nd place
Campbell Ryall (12), Kendall Schissler (12) & Gwendolyn Roux (12) - 3rd place
Sports & Entertainment Operations Research (Paper)
Olivia Adam (11) & Gabriella Larsen (11) - 1st place
Paige Ostrowski (12), Avery Roerig (12) & Rocco Zahasky (11) - 2nd place
Employment Interview Entry Level
Anna Borg (10) - 2nd place
Ruby Finck (10) - 5th place
Grayson Van Nelson (10) - 8th place
Employment Interview Advanced Level
Chloe Bjorlin (12) - 1st place
Isaac Paul (11) - 5th place
Maisie Wheeler (11) - 7th place
Izabella Sullivan (12) - 8th place
Sales Demonstration Hard
Nathan Carlson (9) - 4th place
Rowen Koubsky (12) - 5th place
Marshall Morrison (11) - 7th place
Preston Adam (10) - 8th place
Jillian Peterson (11) - 9th place
Isabella Larsen (9) - 10th place
Luke Carlson (10) - 11th place
Carter Pickert (9) - 12th place
Sales Demonstration General
Kaitlyn Lazenby (9) - 1st place
Hannah Christenson (9) - 5th place
Audrey Nygaard (11) - 6th place
Megan Kruger (9) - 7th place
Maddie Sanders (10) - 8th place
Sales Demonstration Soft
Suzie Marth (9) - 1st place
Lauren Velander (10) - 2nd place
Chloe Patterson (9) - 6th place
Scott Greenshields (12) - 7th place
Sophia Kravchenko (9) - 8th place
Gavin Roerig (10) - 9th place
Cerisa Bray (9) - 11th place
Delaney Hendrix (9) - 12th place
Chapter Project Events Advancing to State
Business Solutions Project – Abby Hollenstein (12), Annika Hoisington (12) & Gretta Pioske (12)
Career Development Project – Natalie Miner (11), Avery Roerig (12) & Laura Sunnarborg (12)
Community Awareness Project – Sam Holmberg (11), Addison Nash (11) & Paige Ostrowski (12)
---