Return to Headlines
Congratulations and best wishes to the Class of 2022!
Borg Report May 26, 2022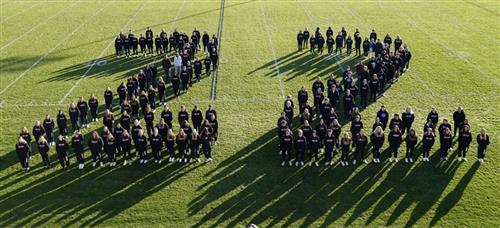 Dear Mound Westonka High School Class of 2022,
Every year, graduation presents a lifetime memory - yet this is a unique year for me. While I have been in this role in the district for 16 years (starting when some of you were attending ECFE), this is my first year experiencing commencement not only as the superintendent but as a parent.
My family came to Westonka for a job, and we have stayed because of this community and our Westonka experience. My wish is that it has been as special for all of you as it has been for my family. Whether you have experienced your entire education as a White Hawk or if this was your first year with us, we are excited to celebrate with you on June 1st.
In preparation for the big day, it is my privilege and honor to share some of the many accomplishments and accolades of the Mound Westonka High School Class of 2022.
High Achievers
MWHS has been consistently ranked as one of the top high schools in the nation by U.S. News & World Report and Niche. This would not have been possible without the dedication and hard work of the Class of 2022.
An impressive 53 MWHS seniors are members of National Honor Society. The College Board recognized 15 members of the Class of 2022 for outstanding achievement on Advanced Placement exams in 2021. Many more will be recognized later this summer for 2022 AP test results. Of special note, Haakon Erdahl and Blake Lee were named AP Scholars with Distinction Award last year, and Hannah Hall and Sara Olson were awarded AP Scholar with Honor. Additionally, Lee earned a perfect score on the ACT and was named a National Merit Finalist.
Hannah Drill and Jake Gaylord were the Class of 2022 winners of the ExCEL Award, which recognizes excellence in "community, education and leadership." Drill, along with Lance Nemecek, also earned the Triple "A" Award for excelling in the classroom, on the athletic field and in the fine arts.
Continuing a long tradition of success, 32 MWHS seniors went to state in DECA this year and 17 qualified for the International Career and Development Conference in Atlanta. Blake Lee and Anna Reier earned 1st place at Internationals and returned home with an elusive glass trophy.
Athletic All-Stars
It was another banner year for White Hawks athletics, with 18 seniors competing at state this school year. This year's Yost/Haddorff/Leopold awards, which are presented annually to the school's top senior athletes, went to Tyler Von Bank and Hannah Drill.
The Section 6AAA Champion boys basketball team made a historic trip to the 2022 state tournament, where the White Hawks finished fifth overall in the program's first trip to state since 1974. Seniors competing on the team were Jason Spaeth, Max Swanson, Tyler Von Bank, Jake Dallman, Jake Gaylord and Jack Eberhart. At state, Spaeth broke the the all-time scoring record set by Jeremy Berg in 1998 and was named to the All-Tournament Team.
The MWHS jazz dance team, featuring nine members of the Class of 2022, competed at state for the 15th consecutive year. The Hawkettes reached the state finals in both jazz and high kick, finishing fourth overall in both disciplines. Ellerie Anderson, Hallie Dierbeck, Lauren Hildahl and Juliet O'Flanagan earned All-State awards and were also named to the Wells Fargo All-Tournament dance teams.
Competing on the girls cross country team, which finished ninth at state, was Allison Soule. Lance Nemecek was an individual state qualifier in boys cross country after winning the WCC East Conference Championship. Annie Springer competed at state on the girls swim and dive team, which earned a sixth-place finish.
The White Hawks' second-place finish in the 1A state boys tennis tournament in spring 2021 was the best in team history. Senior members on that team included Quinn Vochko, Blake Lee and Max Epsky.
Individual and team accomplishments go on and on. We're excited to see all that is still to come from the spring sports teams!
Award-Winning Artists
It was wonderful to welcome in-person musical performances back to Westonka this year. Mound Westonka High School is home to some of the top musical groups in Minnesota, including the Madd Jazz, Concert Choir and Wind Ensemble groups.
Caleb Abernethy and Beckett James were named to All-State Choir. Seth Worden, Gray Paguyo and Felicia Klassen earned a "Best in Site" award for their vocal trio at this year's solo-ensemble competition. In the band contest, Connor Nelson, Henry Kluever and Lance Nemecek were awarded "Best in Site" for their saxophone trio.
Gray Paguyo and Seth Worden earned Outstanding Performance awards for Spotlight Musical Theater Awards for their supporting roles in "Something Rotten!" last fall. McKayla Henderson and Lauren Frigard also earned Spotlight awards for their contributions to the tech team.
MWHS is also home to acclaimed visual artists. Isabella McCullough earned a Silver Key in the 2021 Scholastic Art Awards, and McCullough and Libby McCue also earned honorable mentions for their artwork. Nine members of your class also earned Awards of Excellence from the Minnesota State High School League for their artwork this school year.
Community Leaders
You have proven yourselves to be leaders in the Westonka community and beyond. Fifty-seven members of the Class of 2022 served as Link Crew mentors for underclassmen. Your class also raised thousands of dollars for the Westonka Food Shelf and hosted multiple donation drives for WeCAN. We are thankful for your generous spirit!
NHS students contributed an incredible 1,708 hours of personal time in service throughout the community this year, led by Annabelle Hommer with 130 hours of service. Students offered their talents to the Westonka Food Shelf, Second Harvest, Feed My Starving Children, Lowry Nature Center, several Westonka youth athletic programs, and many other local organizations. Members of the Rotary Interact Club also took on several service projects, embodying the Rotary motto of "service above self."
Led by President Jake Gaylord and Vice President Hallie Dierbeck, Student Senate held a number of memorable in-person events this year and was named an "Outstanding Student Council" for their service and leadership.
Your Legacy
I have memories of this class of MWHS graduates that will last a lifetime. Your awards and trophies speak for themselves, but that's not what I will remember most about the Class of 2022. I will remember a sea of red filling the stands of Williams Arena. I will remember Student Senate members covering Shirley Hills' sidewalks with positive messages to bring smiles in the midst of heartbreak. I will remember watching kids I've known since they started school grow into remarkable young adults, leaving Westonka prepared to take on the world.
As you graduate from Mound Westonka High School in just a few short days, I sincerely hope that you will look back on your time in Westonka with pride. We look forward to seeing all the great things to come from the Class of 2022!
View a list of awards and accolades of the MWHS Class of 2022*
Sincerely,
Kevin Borg, Superintendent
(952) 491-8001
borgk@westonka.k12.mn.us
*Please note: We did our best to capture all of the outstanding accomplishments of the senior class. Please let us know if we missed you or someone you know by emailing neugerb@westonka.k12.mn.us.