Ann Bremer White Hawks Award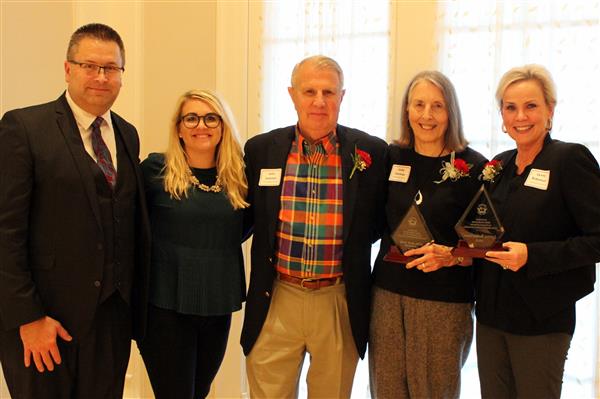 Award Criteria
Nominees for the Ann Bremer White Hawks Award should:

Be involved in service that makes a meaningful contribution to Westonka students, an individual school or program, or the district overall, either over a period of time or in a single, significant way
Demonstrate an on-going commitment to supporting our schools and community
Model personal and professional integrity
Help to create a positive and respectful environment in our schools and community

To nominate a group or individual, complete the nomination form and automatically transmit it by clicking "Submit." If you have any questions or problems with the form, contact Carol Shukle, shuklec@westonka.k12.mn.us or (952) 491-8007.

The awards will be presented at a special recognition ceremony in May, along with the Westonka Teacher of the Year Award.
Submit a Nomination
Nominations for the 2019 Ann Bremer White Hawks Award are now closed. Please check back spring for 2020 nominations. Any Westonka staff member, parent or community member may nominate candidates for the award. Nominees may be individuals, district volunteer organizations, financial contributors or business partners. Current Westonka staff and students and previous winners are not eligible.
History
The Westonka School District has implemented a special award to recognize some of the many dedicated volunteers who offer exceptional service to our school community. The district each year presents up to two or three awards, titled the Ann Bremer White Hawks Award, to recognize outstanding service and commitment to Westonka students and the district. The first awards were presented in 2015.

The award is named in honor of Ann Bremer, a former Westonka School Board member whose record of service as a district parent, community member and on the school board continues to characterize the contributions made by the award nominees. Bremer served on the Westonka School Board from 2004 until her death in 2017.

The community members recognized are leaders in positively impacting the lives and experiences of students and their families and advancing the mission and vision of the school district. Any Westonka staff member, parent or community member may nominate candidates for the award. Nominees may be individuals, district volunteer organizations, financial contributors or business partners. Current Westonka staff and students and previous winners are not eligible.

Past Award Winners:

2020 - Bob Haddorff, John Legeros and Tirisha Dirks

2019 - John and Judy Lewman and Lynne Robertson

2018 - Jeff Fish and Scott Brown

2017 - Jennifer Velarde, Robert Moulton and Howard Leopold

2016 - Scott Bjorlin and Sarah Reinhardt

2015 - Sharon Thaler, Bill LaTour and Randy Lee
Contact
Carol Shukle
Administrative Assistant to the Superintendent
5901 Sunnyfield Road E
Minnetrista, MN 55364
(952) 491-8007
shuklec@westonka.k12.mn.us