Return to Headlines
Students Receive Crash Course in Personal Finance at MWHS Reality Fair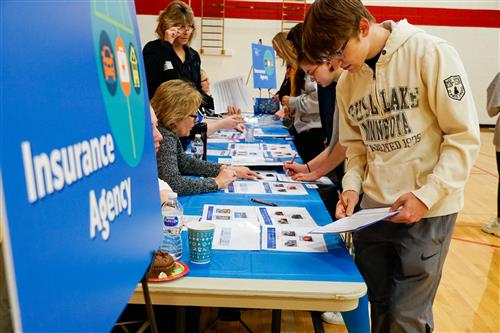 Mound Westonka High School juniors and seniors took part in the Wings Financial Reality Fair on Dec. 11
Click the above image for more photos by Toby Robinson and Jamie Harms
December 19, 2019 — Car shopping, insurance and the cost of child care might be typical water cooler talk in the faculty dining room, but it was rare to see Mound Westonka High School students engaged in these topics at school on a Wednesday morning.
Nearly 400 MWHS juniors and seniors received a crash course in personal finance at the school's first Financial Reality Fair on Dec. 11. The exercise, sponsored by the MWHS DECA Chapter and put on by Wings Financial, tested students' financial literacy in "real-world" situations, such as deciding on the best child care option and whether they should buy a new or used car.
Participants were each given a job, salary and family description prior to the event. Then—equipped with a ledger, a blank check and a pretend debit card—students visited various stations set up in the MWHS gymnasium to try to manage their household budget. The stations, staffed by more than 30 volunteers, allowed students to pay utility bills, find child care, buy a car, decide whether to rent or buy a home, and make decisions about other items including groceries, insurance, entertainment and charitable donations.
The simulation was meant to represent a snapshot of one month's spending. The conversations students had with the professionals at each station helped them understand what they could and could not afford based on their income.
"We brought awareness to students about how much things like groceries and daycare actually cost," said MWHS junior Avery Robbins, one of the event organizers. "Many students' eyes were opened to how much your credit score matters, and students learned that it is better to choose the cheaper option rather than the nicest option and face debt later on, and so on."
Robbins and juniors Katie Clarke and Trent Kelly helped plan and manage the event as part of a DECA Chapter Project—a group project involving a large-scale activity or activities that makes a positive impact in a school or community. The students will present a 30-page paper and presentation on the MWHS Financial Reality Fair at the state DECA competition in March.
Clarke explained that the reality fair was different than past MWHS Chapter projects because it addressed a specific student desire for more financial literacy. "Students are always talking about how they don't know enough about money, especially when it comes to being an adult," Clarke said. "This event addressed that problem exactly."
"Usually, DECA projects are community-oriented, but this time we helped the students," echoed Kelly. "Finance is usually considered a boring topic for most kids (and probably adults, too). The reality fair was a way to make it more interesting. We could have easily put all the students in multiple lectures explaining what wise financial decisions are or aren't. Instead, we handed them a real-life situation and let them learn firsthand what is a good choice or a bad choice."
One station, "Wheel of Fate," had students spin a wheel to randomly experience an unplanned positive or negative event, such as winning a karaoke contest or replacing a flat tire. Adding more unpredictability to the scenario, a roaming police officer handed out tickets for good deeds (which earned students extra money) or fined students for infractions such as loitering or texting while driving. Similarly, a nurse charged students for trips to the ER and rewarded them for things like getting a flu shot.
Clarke said that her favorite part of the event was seeing students who "really got into it." "I saw amazing student engagement, as some students even dressed up for their occupation," Clarke said. "We received a lot of positive feedback from students, volunteers and even administration. It was successful enough for me to want to do it again."
According to Kelly, the high level of participation and engagement by the MWHS students shows that teenagers want to be financially literate. "Students care about their futures and want to invest in themselves to make their lives better," said Kelly.
Even in a short amount of time, students gained valuable information from the hands-on experience. For example, in a pre-event survey when asked how confident they were in their knowledge of purchasing a car, the majority of students voted 1 out of 5. On the post-event survey, the majority of students voted 3. Students' knowledge of creating a budget and reading a pay stub also improved significantly following the simulation.
MWHS Assistant Principal Marty Fischer thought that the event definitely filled a need. "While we know there are several staff members at MWHS who are working to increase financial literacy in their classroom instruction, we still do not have enough financial literacy programs in place for students, and this event was a huge help to start or continue the conversation," Fischer said.
"Giving our students as much information as we can related to the financial 'realities' of life is important as they head out to life after high school," Fischer added. "We hope that this complements what parents are talking about at home."
---