Return to Headlines
It Was a Centennial Celebration!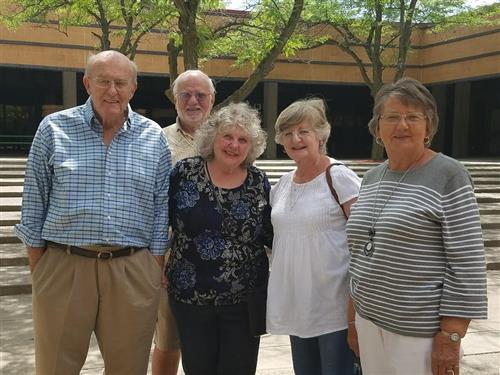 Friends gathered at Mound Westonka High School for a Centennial Celebration.
Click on the above image for more photos from the Spirit of the Lakes weekend.
July 26, 2018 — Westonka Schools concluded the celebration of our Centennial on July 21 with an All-School Reunion with open houses and a program, plus all the fun of the Spirit of the Lakes parade and activities. And what a year it has been!
We began celebrating the 100th anniversary of our first year as a grades 1-12 school district and the opening of the first Mound High School last year at Spirit of the Lakes 2017. There were special events and activities all year as the Centennial theme was tied into almost everything that happened – games, concerts, assemblies and on and on.
We had a great time celebrating and learning about our own history. But the topper was last weekend when we had a half dozen units in the Spirt of the Lakes parade and more than 300 people toured the district's school buildings and shared their memories and stories. It was standing-room only for the All-School Reunion program at Mound Westonka High School. The program featured a trio of alumni performing the high school "Alma Mater"; viewing of the Centennial video; speakers from each decade; and finally, an audience-participation rendition of the high school rouser, or fight song.
Among the guests of honor were our oldest known living male and female alumni – Alice Kuntz Noreen, Class of 1936, and Earl Taylor, Class of 1940. Mrs. Noreen, who will celebrate her 100th birthday in August, wrote her memories and they were read by Superintendent Kevin Borg, the program emcee. The remaining decade speakers were: Dr. John Allenburg, Class of 1948; Jim Bedell, Class of 1959 and Sally Scherven Bedell, Class of 1961; Bob Haddorff, Class of 1963; Rev. Loren Davis, Class of 1975; Marc Illies, Class of 1981; Jay Olstad, Class of 1997; Tiffany Winter Beitler, Class of 2002; and Zach Riffle, Class of 2018. The Alma Mater, which was written by Bob Haddorff in the fall of 1962, was performed by alumni siblings Andy ('03), Emma ('07) and Monica ('13) Shukle.
Thanks to all who celebrated with us and to the Spirit of the Lakes committee for welcoming us to share in the big weekend and for putting on a wonderful few days of fun for the whole community! We are looking forward to the next 100 years!
---