Nick David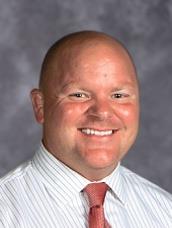 Phone: (952) 491-8316
Email:
Degrees and Certifications:
Bachelor of Arts - Gustavus Adolphus College; Master of Arts - Saint Mary's University of MN; Administrative Licensure - University of MN
Assistant Principal's Message

I am very proud to be the Assistant Principal at Grandview Middle School. This will be my 17th year as a professional educator and my 11th year at GMS. Prior to arriving at GMS, I taught 5th Grade for three years in Montgomery, MN and I also taught 1st Grade for three years in Los Angeles, CA. Along with my Assistant Principal duties here at GMS, I am also the Mound Westonka High School Head Football Coach.

We have an outstanding group of students and staff and a very supportive community. My main goals for 2023-2024 school year are to build positive relationships with all students and parents, promote positive behavior, academic success for all students, and school safety. This includes reducing bullying types of behaviors.

GRANDVIEW MIDDLE SCHOOL PBIS
Our Staff at Grandview Middle School will be teaching our students the PRIDE (Preparation-Respect-Integrity- Discipline-Effort) expectations during the 2022-2023 school year. Grandview Middle School takes the time to create an environment that will support learning and have fun in the process. PRIDE addresses the entire school and you can see the school matrix in the main lobby area when you enter our school. We believe that teaching our students the PRIDE behavior expectations will help create a strong learning community for all of our students, staff and community.

GRANDVIEW MIDDLE SCHOOL PBIS PURPOSE STATEMENT
Grandview Middle School is committed to supporting the learning and behavior needs for all students through Preparation, Respect, Integrity, Discipline, and Effort. We are Prepared and Respectful, while demonstrating Integrity, Discipline, and Effort.

We have PRIDE
In Ourselves
In Our Relationships
In Our School Community
#GMSPRIDE

Please feel free to contact me with any questions or concerns. You can also fill out an Assistant Principal Report Form for any issues by clicking the link below. I look forward to working with you to make this school year the best possible learning experience and environment for your child!

WINGS Up!

Nick David
Assistant Principal
Head Football Coach
(952) 491-8316
davidn@westonka.k12.mn.us

"Education is not a preparation for life; Education is life itself."