Return to Headlines
Homecoming '23 Activities Announced

MWHS Homecoming Royalty, back row, from left: Ryan Hempel, Clark Hanson, Kate Ficek, Natalie Miner, Mikey Oftedahl, Henry Meisel, Thomas Duggan, and Sam Gaylord Front row: Ally Eidsness, Olivia Adam, Carter Reinbold, Sammy Krahl, Jillian Peterson and Maisie Wheeler.
September 20, 2023 — "All Roads Lead Home" as the Mound Westonka High School Student Senate gears up for Homecoming Week 2023, which will be held September 24-30.
The week's festivities begin with the crowning of the Homecoming King and Queen in a coronation ceremony on Sunday, September 24, at 1 p.m. at the Westonka Performing Arts Center. The event is free and open to the public.
The members of the Homecoming Royal Court were announced this week. Students voted by their peers to represent this year's senior class are Olivia Adam, Thomas Duggan, Ally Eidsness, Kate Ficek, Sam Gaylord, Clark Hanson, Ryan Hempel, Sammy Krahl, Henry Meisel, Natalie Miner, Mikey Oftedahl, Jillian Peterson, Carter Reinbold and Maisie Wheeler.
The Royal Court will reign over a week of Homecoming activities, including dress-up days, pep fests, the Homecoming parade and carnival, and a host of athletic competitions, including the Friday night football game when the White Hawks will host Orono at 7 p.m. at Haddorff Field. The traditional bonfire will take place that evening as well.
The week wraps up with the semi-formal Homecoming dance on Saturday, September 30, in the MWHS courtyard, followed by the annual Powderpuff football game on Sunday, October 25 at 5 p.m.
The Student Senate is so excited to share in the Homecoming festivities with everyone next week, said advisor Jamie Harms.
Important Changes to 2023 Homecoming Parade
Due to area road construction, the 2023 homecoming parade will be moved off of County Road 110 and will instead take place on the Mound Westonka High School campus at 5 p.m. (see map below). Parade participants must arrive at the staging area between fields 2 and 3 on Sunnyfield Road E between 4:15 and 4:45 p.m. on Friday, Sept. 29.
Important: Sunnyfield Road will be CLOSED to all traffic starting at 4:50 p.m. on Friday, Sept. 29 and will remain closed for approximately 1 hour. Parade spectators arriving prior to 4:50 may park in the MWHS north parking lot and watch the event from anywhere along the parade route. Parking will be limited; therefore, carpooling is strongly encouraged.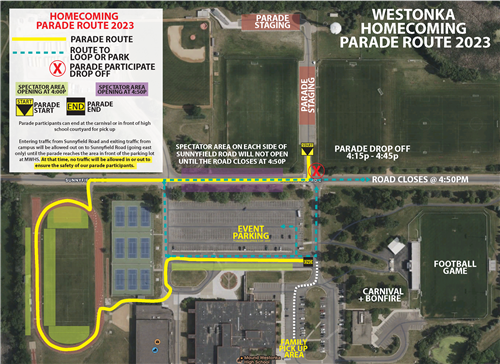 Friday, September 29 Events Schedule
7:30 a.m. - Homecoming Alumni Breakfast, MWHS cafeteria
5 p.m. - Homecoming Parade
6-7 p.m. - Homecoming Carnival outside Haddorff Field
7 p.m. - White Hawks Football Game vs. Orono
8:30 p.m. - Homecoming Bonfire outside Haddorff Field
---