Return to Headlines
Speech Students Advance to State Tournament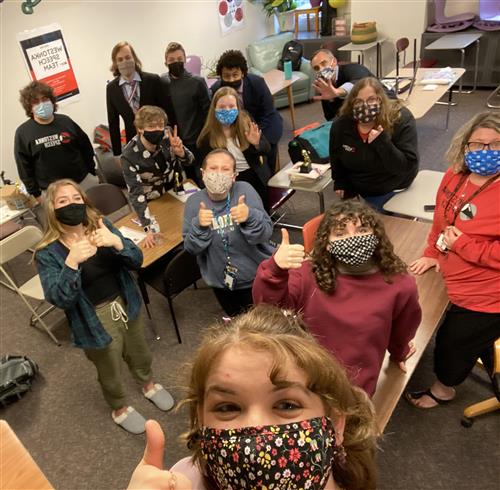 Section competitors included: back row (from left): Wade Carlin, Hayden Jones, Connor Houston, Josh Nkhata, Coach Rhys Jones. Back middle row (from left): Ryan Allen, Annika Wulf, Coach Katherine Kreger. Front middle row (from left): Samantha Kummrow, Kate Moch, Maya Jable, Coach Megan Lhotka. Front: Izzy Braun.
April 12, 2021 — The Westonka speech team, comprised of students at Mound Westonka High School and Grandview Middle School, competed virtually against 12 other teams at the virtual MSHSL 2AA Section Tournament Saturday, April 10. Four Westonka students earned the right to advance in three categories and will compete at the virtual state tournament on April 23.
This tournament was structured so that students competed in three preliminary rounds, with the top six advancing out of prelims into a single elimination round for their category. From there, the top three students in each category qualified for the state tournament.
Westonka had a total of 25 students compete in 22 entries across 10 of the 13 categories. Eight students in six entries advanced to the final round. Of those six entries, three earned the top spot, and as Section Champions are heading to state.
Section Champions
Senior Josh Nkhata - Creative Expression
Senior Kate Moch & junior Seth Worden – Duo Interpretation
Senior Annika Wulf - Original Oratory
Sixth Place
Senior Christian Henkels - Discussion
Sophomores Julia Aland & Samantha Kummrow – Duo
Sophomore Connor Houston - Prose Interpretation
The team finished in seventh place overall in rankings. However, Westonka has three Section Champions, which ties Chanhassen for the most first-place finishes this year.
Coach Rhys Jones said this group represents the largest field of entries to the state tournament since he began coaching the team in 2016, with Westonka's only prior state appearance in that time in 2019. Jones said this is by far the team's best section record during his tenure.
"After not having a State tournament in 2020, and having all tournaments this season virtual, we are excited to have this many students advance to the 2021 virtual state tournament!" said Jones. "These students continue to inspire me and the coaching staff with their resilience and drive to succeed in spite of all the obstacles that COVID has thrown at them."
---