Return to Headlines
Schools End Year With Parades, Drop-Off Days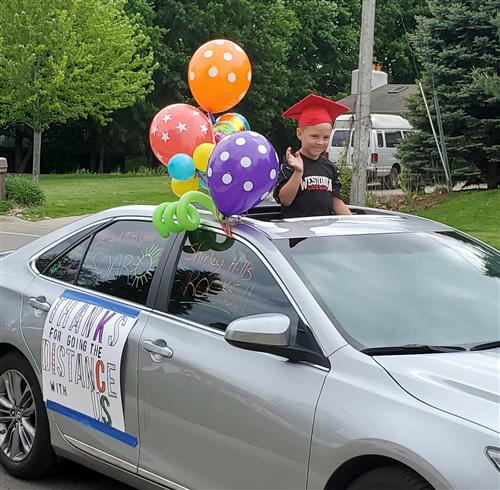 Shirley Hills students drove by their school to say good-bye to their teachers on May 29.
Click on the above image for more pictures from the Shirley Hills parade
June 2, 2020 — The final day of the school year for Westonka primary school students usually involves lots of year-end activities and excitement. Although things looked a little different this year, the excitement was still there as each school planned a special send off to summer. Students at Grandview Middle School and Mound Westonka High School also got the chance to see teachers one more time at materials drop-off days.
Shirley Hills Primary School
With creative signs, colorful balloons and a whole lot of smiles, Shirley Hills students said good-bye to their teachers May 29 with a drive-by parade that enabled students, parents and staff to put closure on a school year that was anything but normal. And although the parade was a substitute for the usual year-end activities, Principal Scott Eidsness said it was so much fun, it might just become an annual event.
"We miss our students and families so much and this parade helped us bring a little closure to this strange year," said Eidsness. "Thank you to everyone who came out to see us!"
School staff members arranged the event. "We wanted to create a safe goodbye for our students and thought the parade would be a great way to send our students off into summer vacation while showing them our love and affection," said kindergarten teacher Beth Hausladen.
Hilltop Primary School
At Hilltop, the goal was to end the school year with a parade around the community. The teachers' route took them through most of the Hilltop School boundary, where teachers were greeted by excited students, awesome signs and great smiles.
"We knew our students would be returning on the final day of school to pick up and drop off materials, so we wanted to get out into their neighborhoods to say hello, wave and honk our horns to let them know we missed them!" said Principal Mike Moch. "It was a fun day!"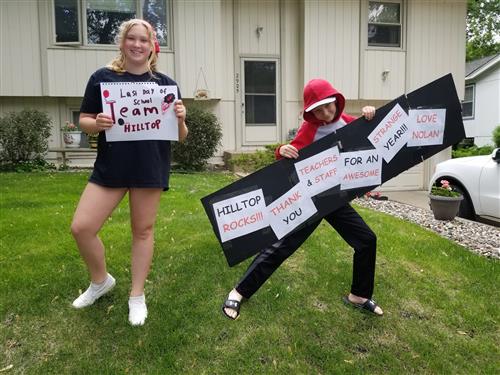 Hilltop teachers took their show on the road, parading past their students' homes.
Click on the above image for more pics from the Hilltop parade
Watch a video of the Hilltop Primary School parade.
Grandview Middle School and Mound Westonka High School
Students from Grandview and MWHS had one more chance to see their teachers at staged materials drop-off days earlier this week. Students had the chance to drop off Chromebooks, text books and Media Center books, while picking up art projects, locker items, yearbooks and wood projects at the same time. It was a great opportunity to greet teachers and share smiles as well.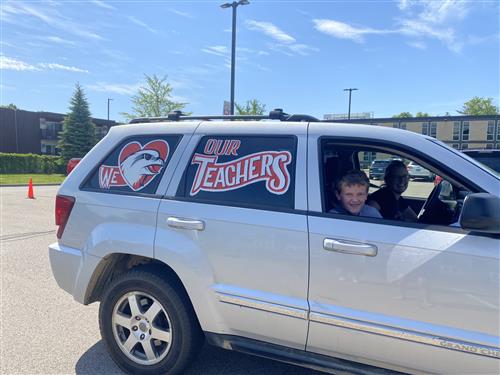 Click on the above image for more pictures from Grandview and MWHS
---