July & August Summer P-EBT Benefits | FAMILIES MUST ACT NOW!
ACT NOW to receive July & August 2021 Summer P-EBT Benefits
All families that want to continue receiving Summer P-EBT Benefits for July & August 2021,
MUST COMPLETE the SY21-22 Application For Educational Benefits Form (Link Below) prior to

September 3, 2021.
Summer P-EBT is a federal temporary emergency nutrition benefit that is loaded on electronic cards for families to purchase food. P-EBT is jointly implemented by the Minnesota Department of Education (MDE) and the Minnesota Department of Human Services (DHS).
To be eligible for July & August 2021 Summer P-EBT:
Children must be approved for School Year 2021-2022 Educational Benefits by completing the Application for Educational Benefits (link).
Receive Supplemental Nutrition Assistance Program (SNAP), Minnesota Family Investment Program (MFIP) or Tribal Temporary Assistance for Needy Families (TANF).
The Summer P-EBT program benefits are NOT contingent on a child's learning model (hybrid or distant) in SY20-21.
What you need to do to receive July & August Summer P-EBT benefits?
Complete the SY21-22 Application for Education Benefits prior to
September 3, 2021
. Here is how:
Complete the online application on Skyward Family Access (link will be available 7/8/21)


Log in, and on the left hand quick links select food service. At the top of the screen use the drop down student menu to select one of the students in your household, then select the application link and complete the Educational Benefits Application.
Or
Complete/submit the paper application by scanning/email to baileyd@westonka.k12.mn.us or faxing your completed application to 952-491-8083 or mail the completed application to: Westonka Foodies, Attention Deb Bailey, 5905 Sunnyfield Road East, Mound, MN 55364.
Sincerely,
Laura Metzger, RD., LD., SNS
Director of Food & Nutrition Services
Westonka Public Schools
---
P-EBT Help Line Information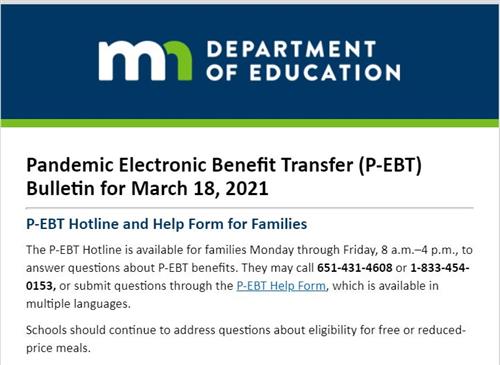 ---