Summer 2020 Catalog and registration available now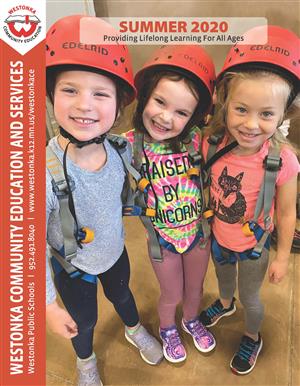 Dear Westonka Community,
On behalf of the entire Westonka Community Education & Services team, I would like to thank you and share how incredibly grateful we are for your patience and understanding during this unprecedented time. We have all experienced some heartwarming gestures over the past few weeks and it reminds me of what an amazing community we have. There is no doubt that the Westonka Community knows how to pull together and support each other during challenging circumstances.
We are excited to show you the wide variety of activities and programs that we have planned this Summer for students of all ages. We remain hopeful that many of these programs will still be able to be offered. We know that circumstances change by the day and sometimes by the hour. Please refer to our website for the most up-to-date information about Summer programming. There is no penalty for if you register for a Summer program and the program cancels; we will credit or reimburse the registration fees for all canceled activities.

A couple of reminders as we move through the Spring season:
1. We continue to offer emergency childcare for our community's emergency workers during this critical time. I am extremely proud of the work that our childcare staff has done in providing a safe and supportive learning environment for these children. For more information, please visit our website at: westonka.k12.mn.us/covid19/childcare

2. I am extremely proud of our ECFE and preschool staff who continue to work hard to provide distance learning opportunities to our youngest learners. This is quite challenging as much of the learning at this age is hands-on and focuses on social and emotional skills. They have done a tremendous job in a very short amount of time to make sure that our families remain connected. It has been gratifying to hear stories of students and teachers engaging through their virtual classrooms.

3. The Westonka Activity Center continues to look at ways to provide programming to our members, including offering digital fitness classes and events. We are also looking at ways of providing some of our enrichments classes through a digital platform. Stay tuned for more information!

4. Free meals are available for students during the school closure. Westonka Foodies and Westonka Bus Service have teamed up to provide these meals. Parents and students can pick up these meals outside of the Westonka Performing Arts Center at MWHS or along designated bus routes. For more information, please visit westonka.k12.mn.us/covid19/foodsupport

5. A reminder that all playgrounds and athletic field are closed to the public until further notice. By limiting social interactions, we can all decrease the chance of transmission of Covid-19 in our community.

Again, thank you for your continued support in this journey. We are all in this together! #WestonkaSpirit

Sincerely,
Joel Dahl
Director for Community Education & Services