Return to Headlines
Westonka Welcomes New Teachers
September 17, 2020 — Westonka Public Schools is proud to welcome several new teachers to the district for the 2020-2021 school year.
Hilltop Primary School/Early Learning Center (ELC)
Three new staffers are on board at Hilltop Primary School and the Early Learning Center.
Ann Carstens will work in media at Hilltop. She holds a media license from St. Cloud State and has had a variety of experiences working in libraries and teaching tech skills in grades K-12. Enrica Correa has joined the special education department. She has had a variety of experiences working with students in different educational settings in Florida and Minnesota.
Katie Borgschatz is the new birth-through-age-five Early Childhood Special Education Teacher (ECSE). She has a bachelor's degree in Unified Early Childhood Studies from the University of Minnesota, Duluth, holds an ECSE license and has had a variety of experiences working with students and families in an early childhood capacity.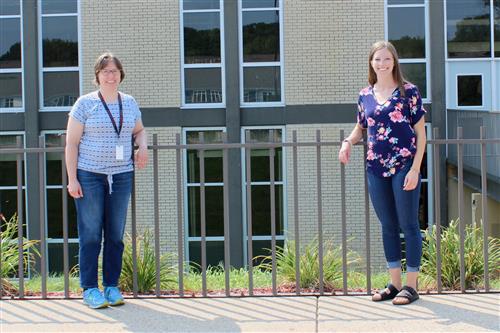 Hilltop/ELC staffers include Ann Carstens (left) and Katie Borgschatz.
Shirley Hills Primary School
Shirley Hills Primary School is excited for six new teachers to join their staff and add to their family culture.
Tiana Nelson will join the team as a first-grade teacher. She has 10 years of teaching experience, most recently in Sioux Falls, South Dakota, although she is originally from Minnesota. Hanna Busch fit in so well during her internship/practicum at Hilltop last year that Shirley Hills hired her for this year for their social worker position. Nikki Rask is a Mound Westonka High School graduate who has worked at Shirley Hills for several years as a paraprofessional. Now that she has earned her teaching degree, she was hired in the specialized services department.
Mike Nielsen was the long-term substitute teacher in phy ed last year after Jim Halvarson retired. He did such a great job that Shirley Hills was happy to add him to the regular roster this year. Ashley Woytcke is another MWHS graduate who has also coached in the district for years. After hearing tremendous things about her as both a coach and a teacher, Shirley Hills took the opportunity to hire her as a fourth-grade teacher. Jack Boland will teach a kindergarten class after student-teaching in that role last year at Shirley Hills in partnership with a University of Minnesota program.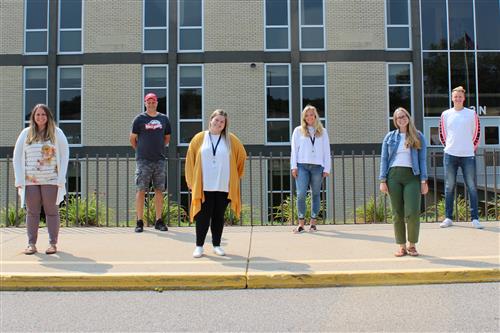 Shirley Hills teachers (from left): Tiana Nelson, Mike Nielsen, Hanna Busch, Ashley Woytcke, Nikki Rask and Jack Boland.
Grandview Middle School
Grandview Middle School is excited to welcome five new teachers this year.
Hannah Loucks is the new art teacher at Grandview. She earned her bachelor's degree from Bethel University and moved back to Minnesota after teaching at Oak Grove Middle School in Clearwater, Florida. In her previous assignments, she also coached volleyball, basketball and strength and conditioning. Hannah Bergh joins the fifth-grade team as a math and language arts teacher. She earned her bachelor's and master's degrees from the University of North Dakota, where she was also a scholarship softball player. She comes to Westonka after completing her resident teacher program at Lake Agassi Primary School in Grand Forks. Bergh will also be assisting with the softball program this year.
Brandon Brakstad has joined GMS teaching physical education and adaptive P.E. He comes to Grandview from Mechanicsville, Virginia, where he was the department chair and taught phy. ed. and health. He earned degrees from University of Great Falls Montana and Carroll College, where he also played football. He has coached football, basketball, wrestling, track and basketball and is currently assisting with the MWHS football program. Freya Klein is the new vocal music instructor. She earned her bachelor's degree from Northwestern, where she also played collegiate volleyball and trained as a power lifter. She comes to Grandview from Plymouth Middle School, where she completed a long-term substitute position last spring. She will be assisting with the volleyball program this year. Mikayla Bebeau will begin the year as a long term substitute in the language arts department. She is an MWHS graduate and earned her degree at Gustavus Adolphus College.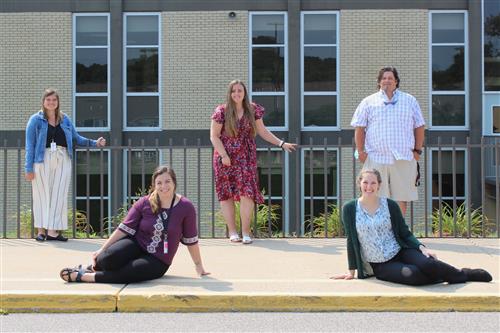 Grandview teachers (from left): Mikayla Bebeau, Freya Klein, Hannah Bergh, Hannah Loucks and Brandon Brakstad.
Mound Westonka High School
Tamara Gehling and Kayla Anderson join the MWHS special education department. Anderson is a graduate of Crown College and enjoyed teaching at Academia Cesar Chavez last year, a charter school in St. Paul serving mostly Spanish speaking students.
Joining the English department are Andrew Vanden Boogaard and Andrew Kenady, who is serving as a long-term sub this year. Vanden Boogaard is a Wisconsin native (and Packer fan), who earned his degrees in English education and Spanish from the University of Wisconsin, La Crosse. He taught at a private bilingual high school in Quito, Ecuador the past three years and is happy to be back teaching stateside this year.
Emily Ruud will teach social studies at MWHS. Ruud is a native of Orono and a MWHS graduate. She received her bachelor's degree in social studies education and history from Bethel University in St. Paul. Ruud spent the past two years teaching in the Hashemite Kingdom of Jordan. Although she considers Jordan her second home, she is looking forward to jumping back into the Westonka community.
MWHS also welcomes Matthew Buchholz, who will be teaching American Sign Language (ASL). He earned his master's degree in deaf and hard of hearing education at the University of Minnesota, Twin Cities. Challenged by a hearing loss himself, Buchholz has taught ASL for the past five years, most recently at Chanhassen High School. He says it's incredible to watch students become increasingly interested in learning another language.
Kelly Peterson will teach in the Transition Plus Program. She has many years of teacher and subbing experience for students with special needs. Kyle Fearing joins the high school team in the health department.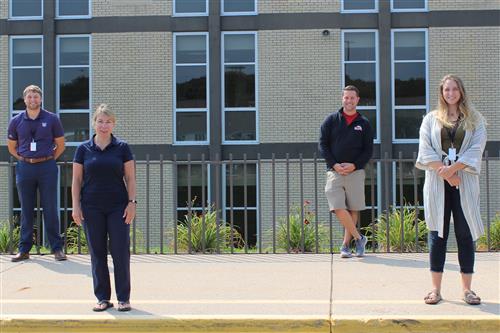 MWHS teachers (from left): Andrew Vanden Boogaard, Tamara Gehling, Andrew Kenady and Emily Ruud.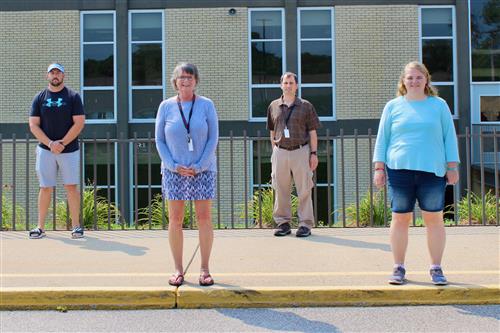 MWHS teachers (from left): Kyle Fearing, Kelly Peterson, Matthew Buchholz and Kayla Anderson.
---