Return to Headlines
District Receives Donation of Over 1,500 Face Shields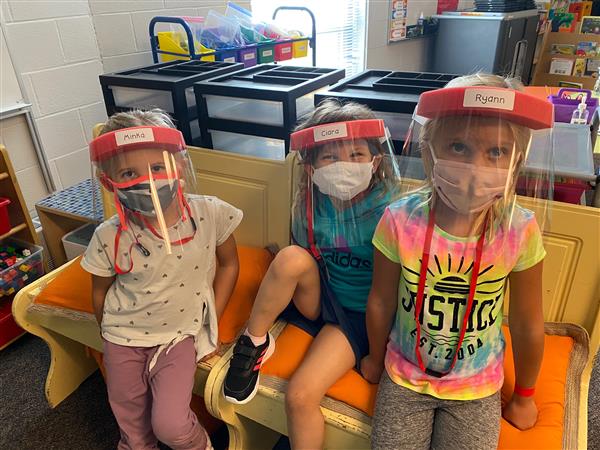 Hilltop Primary School students wear face shields donated by Westonka parent Charlie Schupp and Woodchuck Medical
September 17, 2020 — In addition to Chromebooks and classroom materials, Westonka Public Schools was tasked this summer with quickly acquiring a new type of school supply: personal protective equipment (PPE). This included stockpiling face masks, which are required in all Minnesota school buildings this fall, as well as face shields, which are primarily used as eye protection for the wearer.
Prior to the start of school, Westonka parent Charlie Schupp and Woodchuck Medical contacted Westonka Schools with a generous offer to donate over 1,500 student face shields, which typically run between $5 and $7 each. The unexpected donation came at a time of significant revenue shortages and pandemic-related expenses in the district.
"This face shield donation is a wonderful example of how the Westonka community has come together during this pandemic to support the local schools," said Westonka Superintendent Kevin Borg. "I am very grateful to Charlie Schupp and Woodchuck, whose generosity allowed the district to focus on meeting other needs."
At the start of the coronavirus pandemic, Schupp had a friend reach out and ask if his business would consider making face shields for a local hospital system in need. Schupp partnered with Woodchuck to quickly begin producing high-quality face shields in NE Minneapolis, with all supplies coming from U.S. manufacturers.
"We have had an amazing journey filling the need and shortage of PPE to frontline healthcare workers across the country," said Schupp. "We have a surplus of shields we are donating to churches and schools to bolster the protection for both families and community members so we can get back to 'normal.'"
Face shields have become an important safety tool in Westonka Schools this year for students who rely on visual cues and in other instances where wearing a face mask is problematic. Students have options to decorate and personalize their PPE, making them more willing to wear the safety equipment.
"We thought it would be a great way for kids to personalize their own shields by decorating and naming, and wearing the same shields and PPE as the rest of their classmates," Schupp said.
Woodchuck will donate one face shield to a senior living facility or community group in need of PPE for all new face shield sales that come in from the Westonka community: https://woodchuckmedical.com/products/clear-face-shield-with-grip-lock-band-v3-14
---