Return to Headlines
Meredith Tice Named December Winner of Westonka Way Award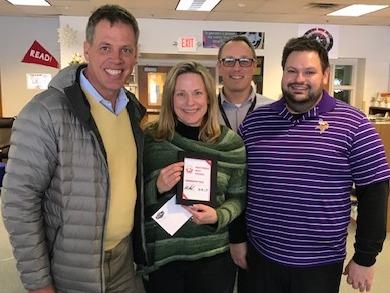 Pictured, from left, are Westonka Superintendent Kevin Borg, December Westonka Way Award winner Meredith Tice, Shirley Hills Primary School Principal Scott Eidsness and Shirley Hills PBIS specialist Scott Lhotka.
December 16, 2019 — Shirley Hills Primary School media tech paraprofessional Meredith Tice has been named the December 2019 recipient of the Westonka Way Award. The monthly award celebrates non-licensed Westonka Schools staff members who go above and beyond for families, students and other staff — because that's the Westonka Way!
Tice is in her eighth year of service with Westonka Public Schools. Her work at Shirley Hills extends far beyond the media center, serving the school as a substitute teacher, technology guru, safety monitor, artist and more.
"Since Meredith started in Westonka in 2012, she has always gone out of her way to make Shirley Hills a better place for students to learn and staff to work," wrote one of several nominators. "Over the years, her position has continually developed and changed, and she has always been willing to step up to the challenge even if it was outside her comfort zone."
Another nominator wrote: "Meredith is a person who wears many hats in our building. She is always someone you can depend on and count on to jump in at a moment's notice. There have been many times I have had to call her to help with technology while testing, and her calming presence and attention to detail is so reassuring as she solves the problem … Meredith is an exemplary person inside and out, and we are very lucky to have her support and get to work with her on a daily basis."
Several other nominators commented on Tice's calm demeanor and positive rapport with students and staff:
"Meredith brings such a positive and peaceful presence to our Shirley Hills family. She is willing to help whenever and wherever she is needed. She took it upon herself to fulfill the requirements needed to be a substitute teacher in order to be qualified to help everywhere!"
"She always steps up when she's needed and gives 110%. She shows up with a positive attitude and always interacts with students with kindness and sincerity. She juggles a lot of balls but is always on top of everything!"
"She shines when working with students, whether it's in the media center, in the lunchroom, on the playground, or helping with kids in distress."
"Meredith is just a nice, calm, positive presence in our building. It was a great day for Westonka, and especially for Shirley Hills, when Meredith joined our 'family.'"
On Monday afternoon, Westonka Superintendent Kevin Borg and Shirley Hills Principal Scott Eidsness presented Tice with a special plaque and two gift certificates for the Al & Alma's Signature Sunday Brunch Cruise on Lake Minnetonka.
The Westonka Way Award will be presented monthly throughout the school year. To nominate a non-licensed employee for the award, please use the Google Form.
---