Return to Headlines
Hilltop Kindergartners Celebrate World Down Syndrome Day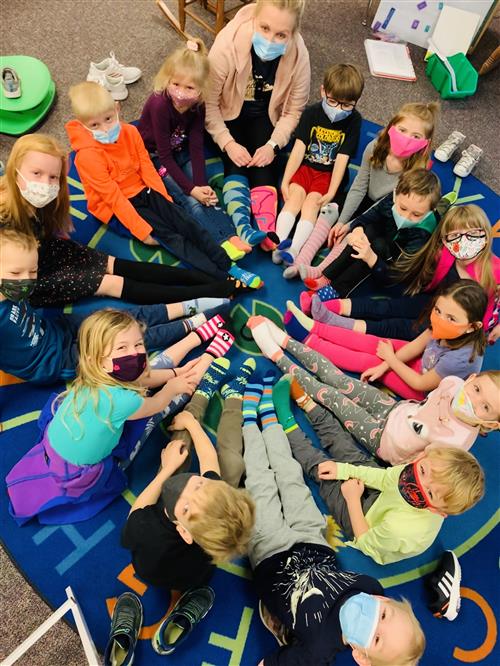 Click on the image for more photos of the celebration
March 22, 2021 — Hilltop Primary School kindergartners celebrated World Down Syndrome Day last Friday by wearing crazy socks and participating in activities designed to raise awareness about Down syndrome and celebrate people who are born with this genetic condition.
"Our kindergarten team participated in activities to show our kids awareness of Down syndrome and to enhance our kindness skills in honor of our teammate's daughter, adorable, almost 2-year-old Eliza Singsank," said teacher Jill Borg.
Lauren Singsank's initial goal with the celebration was to invite awareness and begin these important conversations with her young students, but it blossomed to represent how differences make us special.
"My perfect daughter, Eliza, was born in May 2019," said Singsank. "We had a surprise birth diagnosis of Down syndrome and our whole world changed!" Hilltop immediately welcomed Eliza with open arms and has been the "absolute best support team" for Singsank and her family.
All kindergarten classes took part in special activities, like wearing crazy socks and the Down syndrome awareness colors of yellow and blue to celebrate. The socks originally started in representation of the shape of chromosomes and to celebrate that extra special addition of the 21st chromosome. Students watched a video that featured Eliza and read books about Down syndrome and kindness.
Kindergartners put marshmallows in their mouths to see how difficult it is for kids with Down syndrome to speak, and put socks over their hands to see the challenges of fine motor activities.
"What I love about these magical little kids is they are so incredibly accepting," said Singsank. "All you have to do is to take the time to explain something to them, and they will ask plenty of questions but totally accept the information."
So often people are hesitant to have these conversations, but Singsank promises they aren't that hard. If people are quiet about an issue, it can unintentionally make the issue feel bad or uncomfortable. Singsank encourages people to talk about differences and ask questions.
"My students had the absolute best responses and it gave me so much hope for the future," she added.
All Hilltop students watched Singsank's video, which received 1,200 views in one day on Facebook.
World Down Syndrome Day is marked each year on March 21, beginning in 2006. The 21st day of March was selected to signify the uniqueness of the triplication of the 21st chromosome, which causes Down syndrome. World Down Syndrome Day is observed to create awareness about Down syndrome.
---