Return to Headlines
Hilltop Students Take Learning Outdoors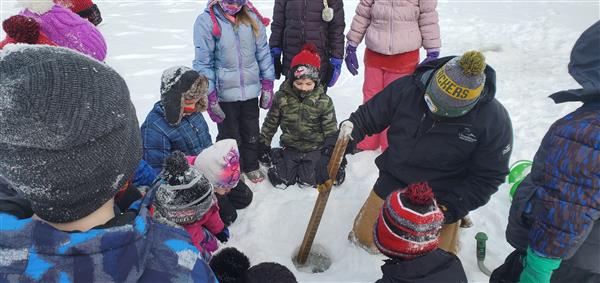 Click on the above link for more pictures from outdoor lessons with Mr. Brett
February 10, 2021 — For over a decade, students at Hilltop Primary School have had the unique opportunity to enhance their environmental education with weekly lessons taught by Brett Sieberer, "Mr. Brett" to his students, from Three Rivers Park District. As part of the experience, students apply hands-on skills to standards they have learned and developed through their science curriculum.
Hilltop students used to take field trips to Lowry Nature Center every year, but the school started the outreach program with Three Rivers to save money on busing costs. "After meeting Brett, I suggested to our principal that we bring this guy to us, because he is amazing!" said Craig Schmidt, Hilltop's environmental education coordinator.
What started as occasional visits has turned into weekly lessons with each individual grade level, meaning Mr. Brett gets the opportunity to work with every single Hilltop student each month. In addition to his weekly visits, Sieberer even attends open house nights, science fairs, family fun nights and Octoberfest.
Sieberer presents an eight-topic rotation with each grade level, aligning what he teaches with what the school is tasked by the state and national science standards to cover. Some of the students' favorites include:
The history and process of making maple syrup
Native American studies
Minnesota animals, including predator/prey relationships
Ice study
Minnesota landforms and geography studies
Pond study and macro invertebrate identification
The history and making of apple cider with kindergarten
Forestry, winter birds, frogs and toads, air and weather, soils, seeds and much more
The owls are another yearly favorite when Sieberer brings in a live owl and connects with art teacher Klair Hans, whose students do sketches with pastels.
"Brett is an excellent teacher, and has that knack for talking to and listening to children, and they get an excellent 'different take' on our classroom science concepts, which cements the learning for many students," said Schmidt.
Students aren't shy about sharing their feelings about Mr. Brett and his lessons. "It's really cool that we get to go outside all the time with him," said Wyatt P. "School is so awesome when we go out with Mr. Brett."
"Apple cider in Kindergarten and maple syrup in fourth grade are my favorites because we get to eat nature sugar. Plus we get to hear 'the story' one more time!" said Ari B.
Lily T. said, "Mr. Brett is really funny and exciting and nice, so it's fun to learn science outside with him."
Hilltop students' environmental education culminates with a visit to Wolf Ridge Educational Center in the spring of their fourth-grade year. That experience is remembered fondly by many students for years to come.
"Brett has a real passion for all things environmental and all things nature related, and it shows in what and how he teaches," said Schmidt, who couldn't resist joking. "Sadly, he is also a passionate Packers fan, so that is hard to stomach on a weekly basis."
---