Return to Headlines
New Children's Playhouse Offers Youth Acting Opportunity
February 16, 2020 — "Who or what is that shadowy figure playing the piano in the school music room after dark?"
Westonka Community Theatre (WCT) is excited to offer a new opportunity for youth ages 7-17, who are invited to find out the answer to that question by participating in the first Children's Playhouse production of "Phantom of the Music Room."
Written by Janet Gardner, the play is a humorous, melodramatic, modern-day mystery that will enable students to discover the excitement of classical music.
Auditions will be held Monday, Feb. 3, from 3:45 to 6:45 p.m. in the Mound Westonka High School Little Theater (actors should be prepared to stay for the entire three hours that evening). All who audition will have a role in the production. Rehearsals will be each day that week, with performances scheduled for Friday, Feb. 7, at 7 p.m., and Saturday, Feb. 8, at 11 a.m.
In the past, Westonka Community Education offered a winter theater opportunity through Prairie Fire Theater. But with the new Performing Arts Center, the Westonka Community Theatre Board of Directors felt that the time was right to try this offering in-house and the Children's Playhouse was born. The production is led by Melissa Bray as music director, Heidi Richardson-Duggan as artistic director and stage manager, Tirish Dirks as production manager and Jen Trundle as choreographer.
The WCT is hoping that this opportunity will become a yearly performance choice for students, according to Bray. "We have a lot of talented students in the Westonka district and want to continue to grow their love and interest in theatre, singing and dancing!" she said. "Through theater, children can boost their self-confidence, problem solving skills and social awareness. They learn how to work collaboratively in a group setting, trust others and have fun!"
For more information and to register, visit Children's Theatre/Phantom of the Music Room.
About Westonka Community Theatre
The WCT started to organize with a few individuals in the spring of 2018 and officially formed the Board of Directors in September of 2018. During the first year the 10-member board was led by Kristin Wallace as the Board Chair. Scott Lhotka now leads the board comprised of 15 community members who hold a variety of committee chairs and roles. Other executive board members include Graydon Royce, Wallace, Stacy Doepner Hove and Tirisha Dirks. Rounding out the WCT Board are Melissa Bray, Amy Velsor, Jamie Harms, Steve Skoro, Jen Trundle, John Cornell, Scott Stivers, Ron Kline, Carol Shukle and Susan Retterath.
As board chair, Lhotka oversees all aspects of the WCT and the productions put on throughout the year. He also serves as executive producer for the summer production.
WCT is proud to announce its 2020 summer production, "The Wizard of Oz." The musical based on the beloved 1939 film and L. Frank Baum's classic novel features a cast of whimsical characters who will appeal to audiences of all ages. The show will be performed July 23-26, 2020 at the Westonka PAC. Auditions will be held in May and are open to community members of every age. More information about opportunities to participate both on and off stage will be available in the Community Education Summer Catalog and on the Westonka Community Theatre website. Questions can be directed to westonkacommunitytheatre@gmail.com .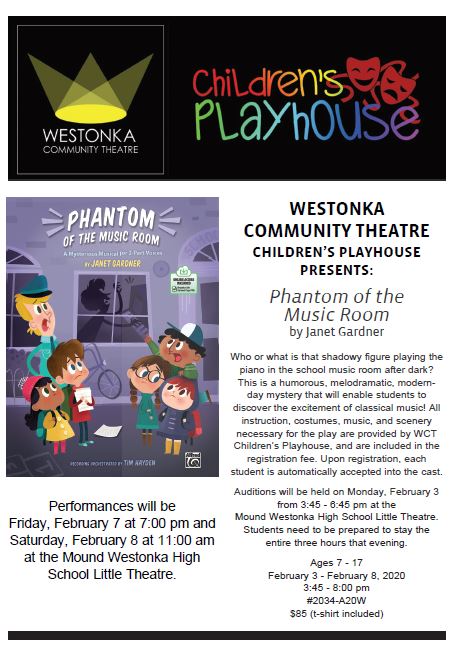 ---