Return to Headlines
Westonka Schools Name Teachers of the Year
November 20, 2019 — Westonka Education Minnesota (WEM) surprised five Westonka Public Schools educators in November with their respective schools' top teaching award. Congratulations to Westonka's 2019-2020 building Teachers of the Year: Christie Latterner from Westonka Early Learning, Bobbie Jo Tronsgard from Shirley Hills Primary School, Klair Hans from Hilltop Primary School, Jessica Lunski from Grandview Middle School and Sara Schwartz from Mound Westonka High School.
WEM collected Teacher of the Year nominations this fall from students, parents, staff and community members. Teachers in each building then had the difficult task of selecting a teacher to represent their school as Teacher of the Year. Criteria for the annual award includes impact on student learning, both in and out of the classroom; contributions to and improvement of the school community; and years of service in the profession, district and/or building.
"This process is not possible without community members, students, and staff noticing and recognizing teachers in our district for their excellent work in and out of the classroom," said WEM representative Julie Thomas. "This year, 438 nominations were submitted. This resulted in approximately 80 teachers being nominated for Teacher of the Year in their buildings. Thank you to those that support our district and nominated teachers for this process!"
"All of the educators that were nominated are well-deserving of this honor," Thomas continued. "The teachers selected to represent their buildings are excellent examples of the high standard we hold ourselves to in Westonka. We appreciate their dedication to the students and value their contribution to our district."
Latterner, Tronsgard, Hans, Lunski and Schwartz will represent the district in the Westonka Teacher of the Year and Minnesota Teacher of the Year competitions. Both of these honors will be announced in May 2020.
Read excerpts from each candidate's nominations below.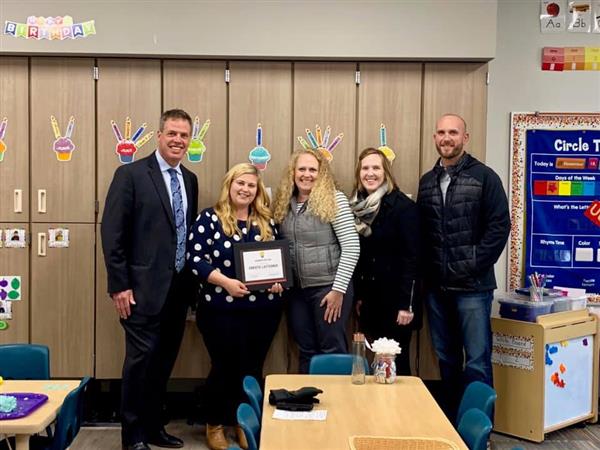 Pictured (from left): Westonka Superintendent Kevin Borg, Early Learning Teacher of the Year Christie Latterner, Westonka Early Childhood Family Education Coordinator Sarah Grimm and Westonka Community Education and Services Director Joel Dahl
Christie Latterner - Westonka Early Learning Teacher of the Year
"[Latterner] is a wonderful person to work with. She is also wonderful with the children and truly cares about their learning experience."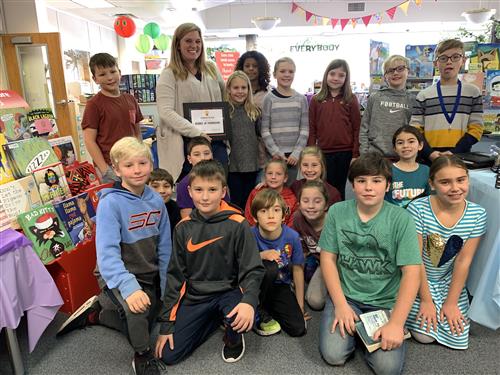 Shirley Hills Teacher of the Year Bobbie Jo Tronsgard with students
Bobbie Jo Tronsgard - Shirley Hills Primary School Teacher of the Year
"I have been extremely impressed by [Tronsgard's] grace, grit and positive attitude. She always says she doesn't need the recognition (she is so humble), but she 100% deserves it because she does so many wonderful things for our school and community. If you want something done, she is on it and does it with fidelity. Bobbie Jo is an upstander - bringing ideas and concerns to the forefront in a respectful manner. She is one of THE most caring and kind individuals I know. She truly has compassion and empathy for her colleagues, students, athletes, community members and friends. Not only does she develop phenomenal relationships with her peers, students and outside community members, but she has brought great ideas to the table and implements them into her classroom and various committees she sits on. She is wise beyond her years and is very respectful and positive when addressing the issues of need in our school and community."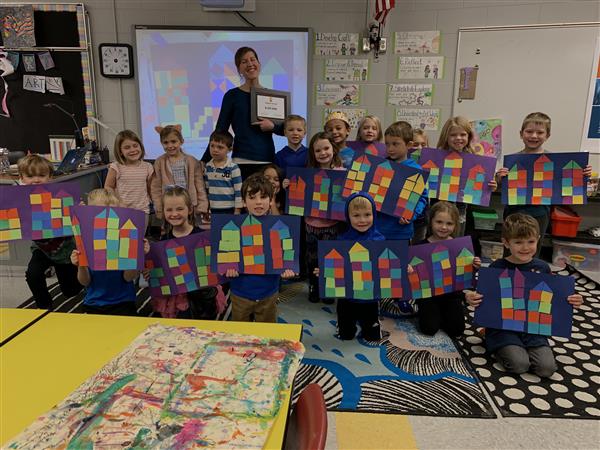 Hilltop Teacher of the Year Klair Hans with students
Klair Hans - Hilltop Primary School Teacher of the Year
Student nominations for Hans:
"She is so positive and the best art teacher ever! Mrs. Hans is truly a great teacher and she is so amazing."
"Mrs. Hans was always there for me."
"Ms. Hans was awesome to be around and always made us laugh. She was my favorite teacher ever and I think she should be Teacher of the Year."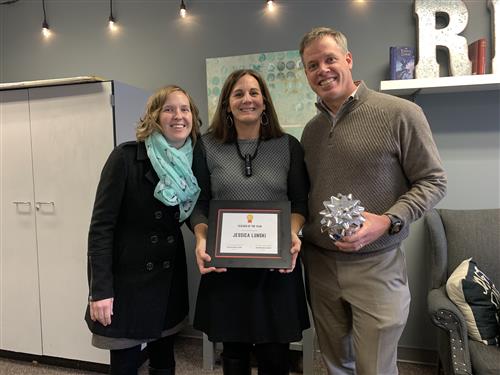 Pictured (from left): WEM representative Julie Thomas, Grandview Teacher of the Year Jessica Lunski and Westonka Superintendent Kevin Borg
Jessica Lunski - Grandview Middle School Teacher of the Year
Student nominations for Lunski:
"She is nice and has a great personality and just a good teacher. I hope she is the best teacher."
"She helps when people need it."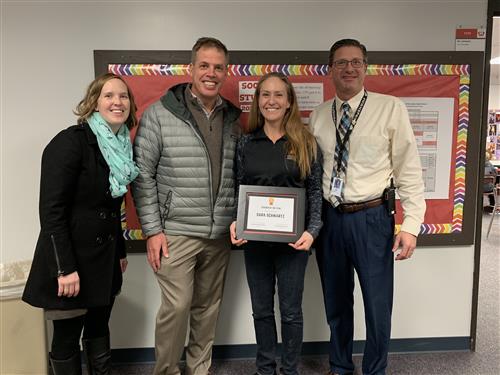 Pictured (from left): WEM representative Julie Thomas, Westonka Superintendent Kevin Borg, MWHS Teacher of the Year Sara Schwartz and MWHS Assistant Principal Marty Fischer
Sara Schwartz - Mound Westonka High School Teacher of the Year
"[Schwartz] teaches with contagious passion, leads with compassion and pushes students to be curious about the world. She genuinely cares about kids and the connections she makes with them in eighth grade she continues to develop until they graduate. As her colleague, I am inspired by her creativity and leadership and reflective practice. She makes everyone around her better."
---