Return to Headlines
Fourth-Graders Make Memories at Wolf Ridge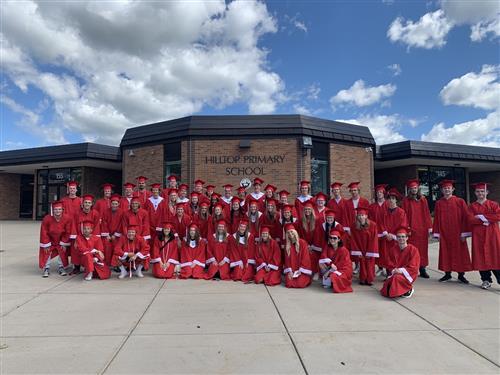 View photos from Hilltop's trip to Wolf Ridge
May 29, 2019 — In what has become a rite of passage, Westonka's fourth-grade students, along with a group of staff and parents, recently spent an exciting week at the Wolf Ridge Environmental Learning Center in Finland, Minnesota. This year, Shirley Hills Primary School students visited Wolf Ridge May 13-17, while Hilltop Primary School fourth-graders made the trip May 20-24.
Hilltop students celebrated an important milestone – the 40th anniversary of the school's annual week-long visit to the ELC. In addition to the students, parents and staff members who attended this year, retired Hilltop staff members Tom Osborn, Doug Hage, Bonnie Campbell, Kathy Ireland and Deb Kornhauser were also on hand for a special ceremony fueled by excitement and emotions on Thursday night.
Current Hilltop program coordinators Theresa and Craig Schmidt were proud to present a check for over $1,000 to ELC director Pete Smerud for new equipment and curriculum. The donation, raised by Hilltop parents, staff and students, was collected as a way to thank Wolf Ridge for 40 years of partnership. The Schmidts were honored to accept a beautiful plaque from Wolf Ridge commemorating 40 years together, which will be proudly displayed at Hilltop.
"Our 40th anniversary trip was a wonderful week with amazing moments not soon to be forgotten," said Craig Schmidt. "Many tears of joy were shed by staff, parents and students alike throughout the week."
Students spent the week learning about the environment and had opportunities to participate in a variety of activities, including canoeing, a ropes course, tree study, animal tracking, wall climbing and history lessons. Other activities included making fire with flint, papermaking, a raptor program, setting live traps to study small mammals, fishing and making dream catchers.
"Overall it was a week that saw a perfect mix of challenge, success, learning and fun," Craig Schmidt added. "Multiple generations of Wolf Ridge and Hilltop connections came together to celebrate and continue a tradition we hope to carry on for decades to come."
Shirley Hills students have their own legacy as well. This year's trip marked the 33rd year of Shirley Hills' Wolf Ridge experience. Students had a great week with ideal mild and sunny weather for most of the trip.
For the first time, students had the opportunity to stay in the newly-renovated Mac Lodge, which is equipped with sensors to monitor and track each room's electricity and water usage through the week.
"Our kids had the opportunity to reflect and change their habits to be more eco-friendly," said co-coordinator Jennifer Naslund.
Students also enjoyed classes, the amazing food grown locally at the Wolf Ridge farm and great company. The Wolf Ridge experience stays with many students for a lifetime. The trip is often mentioned as a favorite memory of school days and is even noted in some graduation speeches.
"When we leave for Wolf Ridge, we bring fourth-graders, but we return with fifth-graders," added Naslund. "The maturity and growth that happens in one week's time is truly amazing."
Students and parents at both schools participate in a variety of fundraising activities to help cover the cost of the trip.

Wolf Ridge is a nationally respected and accredited K-12 school and residential learning center. The educational activities immerse participants in nature exploration, cultural history, outdoor skills, team-building, and personal growth.
View photos from Shirley Hills' trip to Wolf Ridge
---