Return to Headlines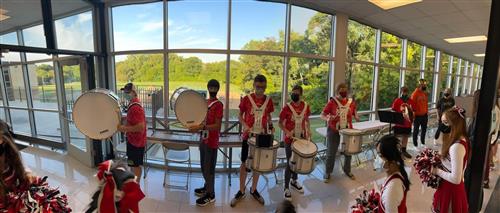 Click on the above image for more pictures of band activities
October 20, 2021 — After a year of concerts that were canceled, reimagined or virtual, and a year with no pep band . . . the Mound Westonka High School bands are back! Students started preparing for their comeback this summer with a variety of activities. Following a year without marching band, the Spirit of the Lakes parade seemed a bit out of reach, but the pep band performed a "stand-and-play" performance at Surfside Park for the festival.
"It feels good to be reconnecting with our community again," said director Gretchen Chilson.
The band council, the student leadership team, met regularly over the summer for leadership training, including a day with "group dynamic" speaker Alan Feirer. Students on the band council connections committee planned ways to welcome students back to a full band experience. The media committee put together fun videos to welcome eighth-graders and new students.
The celebrations committee helped to plan after-rehearsal parties in August. In preparation for the fall sports season, the pep band held rehearsals three times in August, and each ended with a different kind of celebration. Beach night included Hawaiian attire, beach volleyball and themed games. For escape room night, students formed teams to determine who could solve the mystery of the lost mummy. For dunk-the-directors night, students played games to earn tickets, which they used to vote on what sort of torture would befall director Chilson and pep band director Kevin Fuhrman. Props included makeup, colored hair spray, silly string and, of course, a dunk tank.
The pep band played at the welcome home party for MWHS grad and Olympic gymnast Shane Wiskus. Homecoming brought opportunities to perform in the parade and at pep fests at Grandview Middle School and MWHS. The pep band has been busy supporting the community by playing at all regular-season football games, plus a volleyball game. They also look forward to cheering on the White Hawks football team when they host a section game on October 30.
After canceling Wind Ensemble's tour in the spring of 2021, the group is moving forward with plans to tour Chicago in March 2022 with Concert Choir.
Also on the horizon, the Westonka Performing Arts Center will host the Wright County Conference Honor Band on January 8 and the Region 2AA Large Group Band Contest on February 7.
"I'm so glad we can provide students with a more traditional band experience this year," said Chilson. "Band is more than a class; it's 'home' for many of our students, and some of them truly missed the relational and social aspect of our program over the past 18 months."
---