Return to Headlines
MWHS Students Unite People Through Music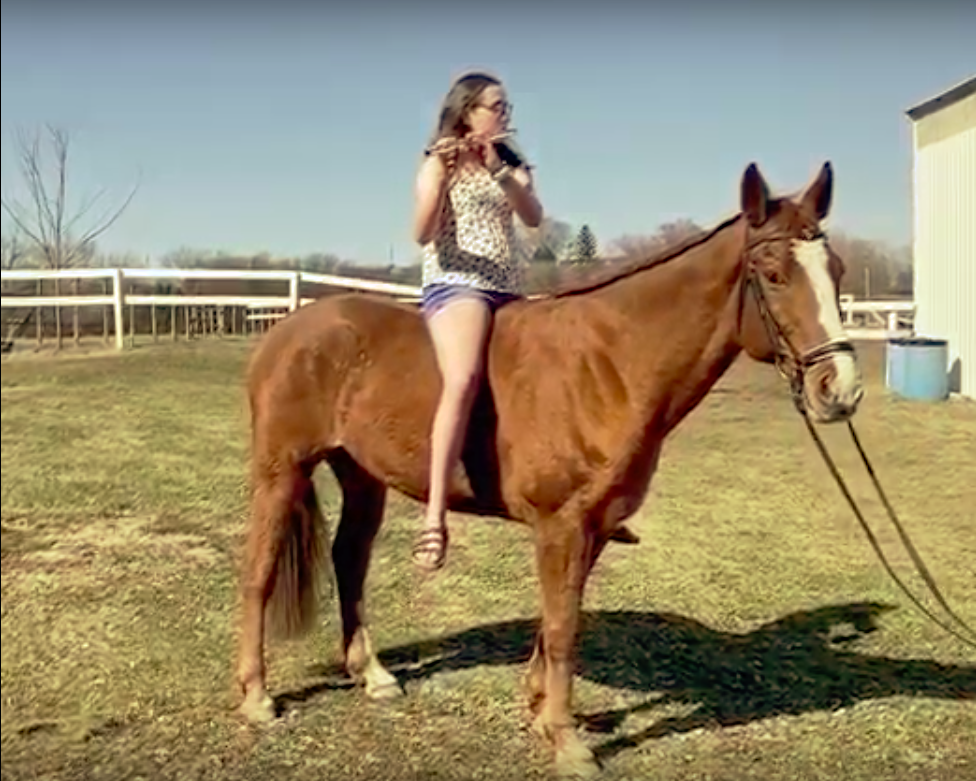 A Mound Westonka High School band student performs a flute solo atop a horse as part of the Personal Performance Project
April 2, 2020 — Mound Westonka High School band director Gretchen Chilson believes that music has the power to unite people, even when they can't be physically together. That's why she created a project that would get her students to practice and perform on their instruments while also making a difference in their world, using music to reach out to those in need.
This week, each member of the MWHS Symphonic Band, Concert Band and Wind Ensemble was asked to make a home video recording of a personal musical performance and share it with someone who could use a "pick-me-up" during these difficult times. The students could send their videos to anyone they chose, including older friends, cousins in other states who have been out of school for several weeks, or active concert-goers who are unable to enjoy live shows because performances have been canceled.
The students were encouraged to make their videos entertaining in non-musical ways with the goal of putting a smile on the recipient's face. Some wore costumes or used creative props while others enlisted household members (including animals) to add some flair.
"A quarter of my students turned in the assignment BEFORE the due date," Chilson said. "They are anxious to keep playing, and to share their music. It's been very uplifting to hear all of their performances."
Most of the students chose to send their performance videos to their grandparents and many chose music that generation would enjoy. Chilson will also be sharing the videos with residents of the Lake Minnetonka Shores and Harrison Bay senior living facilities.
Westonka Joins #PorchConcert Movement
Mound Westonka High School musicians invite you to join them as they participate in the national porch concert movement on Tuesday, April 7 at 7 p.m. Students will be going outside to play their instruments for their neighborhood, and they invite you to listen or make music of your own. Tweet photos and videos @WestonkaBands with the hashtag #PorchConcert.
---