Return to Headlines
Bands to Host Contest Preview Concert Feb. 10
January 22, 2020 — The Mound Westonka High School Symphonic Band and Wind Ensemble will present their second annual Contest Preview Concert on Monday, Feb. 10, at 7:30 p.m. at the Westonka Performing Arts Center. Band director Gretchen Chilson explained that the performance gives band students the opportunity to present a "home" concert as part of their preparation to play at the Region Large Group Contest, to be held at Orono High School on Feb. 24. For families, it's an opportunity to hear the contest repertoire without having to travel with the band on contest day.
This year's concert is special because it also features the Plymouth Concert Band (PCB), an ensemble made up of talented adults who have auditioned to be a part of this high-quality community band. The mission of the PCB is to embody the finest traditions of the symphonic wind band with a full schedule of concerts and performances.
"I'm excited for students not only to hear this wonderful ensemble, but also recognize that many of them do not have music as part of their 'day job,'" said Chilson. "They work in engineering, medicine, corporate offices, schools, and more—and they've chosen to continue making music just for fun!"
Chilson said she played with the PCB for a few years, and had a great experience with them. "What a great example for our young people that music isn't just a class that ends at graduation," she added. "It will be fun to connect with them again, and to have students get to know them."
Symphonic Band's contest music for this program has a Civil War era theme, including "High Water Mark: The Third Day," which depicts a Civil War battle. "The Vacant Chair" is based on a song from the time, in mourning of a family member who didn't come home from war, while "A Lantern in the Window" tells the story of slaves making their way to freedom using the Underground Railroad.
Wind Ensemble will continue with their Childhood theme, opening with "Mother Hubbard March," a Sousa favorite based on nursery rhymes. "A Childhood Hymn" features a melody based on "Jesus Loves Me" and "Children's March" is a staple of the concert band repertoire.
The concert will conclude with the Wind Ensemble and Plymouth Concert Band performing together on the piece, "Joy."
For more information on the PCB, visit their website.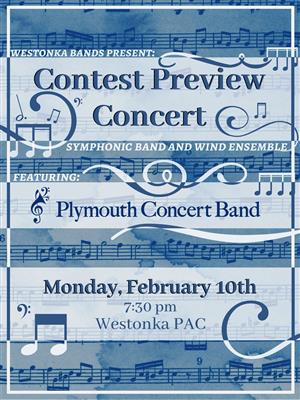 ---