Return to Headlines
MWHS Students Win Record 26 Minnesota Scholastic Art Awards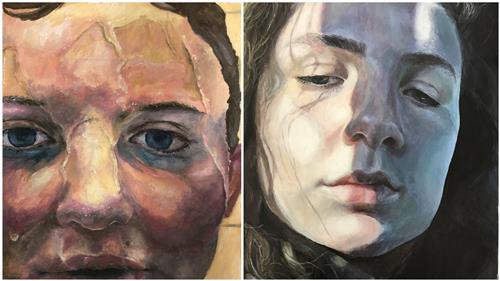 Mound Westonka High School senior Emilene Loehr (work pictured left above) and junior Maya Jable (work pictured right above) earned Gold Key awards in the 2020 Minnesota Scholastic Art Awards competition
Click the above image to view all of the award-winning artwork by MWHS students
January 22, 2020 — Mound Westonka High School art students were honored with a record number of awards in the 2020 Minnesota Scholastic Art Awards competition.
"MWHS art students represented our district unbelievably well," said art teacher Laura Hensley. "MWHS students won a [school record] 26 awards in this high-caliber competition this year!"
The statewide high school juried art program is open to all Minnesota students 13 or older in grades 7-12. Students can submit artwork in 17 different categories, ranging from painting to jewelry to video game design. Graduating seniors are also able to submit art portfolios that include a series of eight distinct works that communicate a single cohesive idea or visual investigation. Jurors award student works that exemplify originality, technical skill and the emergence of personal voice or vision.
According to Hensley, submissions in this year's MSAA competition surpassed the 3,746 artworks submitted in 2019. Less than a quarter of artworks entered each year win an award.
Two MWHS students earned coveted Gold Key awards for their paintings. Junior Maya Jable won a Gold Key for her work "Colors of Me," and senior Emilene Loehr was awarded for her painting "Drowning." Gold Key works are automatically considered for national-level recognition.
Silver Keys—which recognize stand-out works that demonstrate exceptional ability—were awarded to five MWHS students. Earning Silver Keys were seniors Loehr for her drawing "Medicine" and Grace Hanson for her painting "Manic;" and sophomores Tallulah Barnett for her sculpture "Window to the Mind," Olivia Henningsgaard for her drawing "Split" and Christina Shanley for her drawing "Astigmatism."
Additionally, 13 MWHS students earned a total of 19 Honorable Mention awards this year: seniors Hanson (2), Loehr, Ivy Anderson (3), Trinity Bielke (2, including art portfolio), Sonja Hoversten (2), Grace Prchal and Callyn Tice; juniors Charlie Bledsoe, Austin Henderson, Katherine Johnson and Tavia Snyder; sophomore Austin Alaspa (2); and ninth-grader Adeline Leger.
Art teacher Sara Strother said, "Please extend your sincere congratulations to these students on their outstanding achievements and be sure to check out their works!"
View the MWHS students' award-winning artworks
The 2020 Gold Key artworks will be on display at Regis West Gallery at the Regis Center for the Arts Feb. 4-22. Silver Key artworks will be displayed in a slide presentation on gallery monitors during the exhibition. The MSAA Gold and Silver Key Awards Ceremony will be held at the Weisman Art Museum at the University of Minnesota in Minneapolis on Feb. 22.
The Minnesota Scholastic Art Awards program is organized and administered each year by the Art Educators of Minnesota. Learn more at http://www.aem-mn.org/advocacy/minnesota-scholastic-art-awards/
---