Return to Headlines
MWHS Musicians Shine at WCC Honor Festival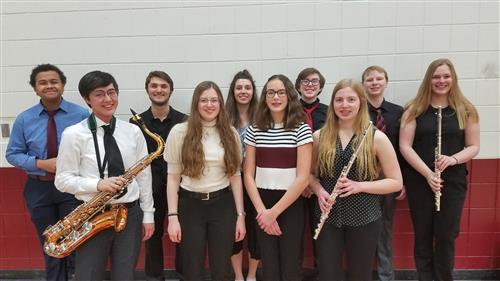 MWHS band members performed at the WCC Honor Music Festival
January 15, 2020 — A total of 18 Mound Westonka High School musicians were chosen to participate in the annual Wright County Conference (WCC) Honor Band and Honor Choir Festival on Jan. 11 at the Annandale High School Performing Arts Center. About 180 students from 13 school districts were selected for the event, which featured some of the top music students in the conference.

The festival was created to provide a collaborative educational setting to showcase instrumental and vocal musical talent in the conference. Band and choir directors from the WCC were asked to nominate their top students, who were invited to join together as one team and work toward a common goal. Student selections were made to ensure that all schools in the conference were represented, as well as to provide the correct number of students for each part.
Honor band members included MWHS senior Grace Prchal, juniors Alyssa Schneider, Carson Meritt, Merrick Gormley, Joshua Nkhata, Katherine Johnson, Nathan LaLuzerne and Michael Kurtz; sophomore Kathryn Butler and freshman Savanna Newell.
"It's always great to see some of the best students from around the state get together and make music together," said MWHS band director Gretchen Childson.
Selected for the Honor Choir were senior Elmo Fernandez-Armstrong; juniors Zach Houston, Jordyn Nester, John Wombacher and Annika Wulf, and sophomores Caleb Abernethy, Isabel Newell and Allison Soule.
Under the direction of Dr. Angela Broeker, the choir performed five selections and each piece was in a different language.
"From Portuguese to Latvian, the program was filled with challenging and rewarding music," said MWHS choir director Kelly Newell.
Other participating high schools at the festival included Annandale, Dassel-Cokato, Delano, Glencoe-Silver Lake, Holy Family, Hutchinson, Litchfield, New London-Spicer, New Prague, Orono, Rockford Area and Watertown-Mayer. Students rehearsed all day, beginning at 9 a.m., for a late afternoon concert in the Annandale High School Performing Arts Center.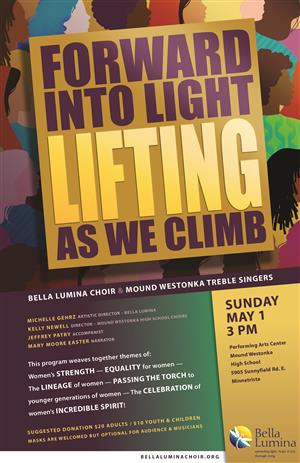 MWHS choir members performed at the WCC Honor Festival
---