Return to Headlines
Borg Report September 10, 2020
Dear Westonka Families,
I can't tell you how happy it made me that, at long last, Westonka Public Schools was able to open our doors this week and welcome students to the 2020-21 school year. These first few days of school were not without some hiccups and frustrations, but I'm incredibly proud of the effort shown by our teachers and staff and of how they immediately began building and restoring crucial relationships with students. I am also very grateful for the grace shown by our families as we navigated these new ways of operating school. Please know that we remain committed to delivering high quality education for your student(s) in a positive and safe learning environment and will continue to adjust and improve our processes to best meet their needs.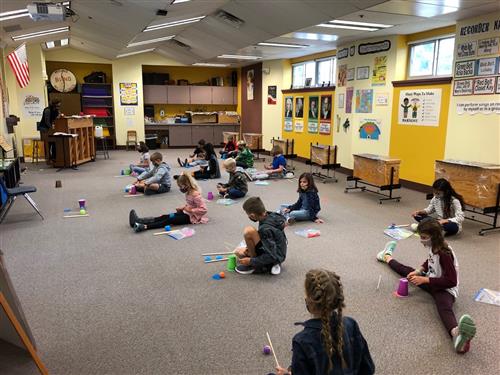 Shirley Hills Primary School students in music class on the first day of school, Sept. 8, 2020
Click the above image for more photos from the first week of the 2020 school year
I believe that Westonka was fortunate to be able to begin the school year with in-person learning days at all levels. Although we have strengthened the distance learning option available to students, and the district is prepared to pivot to that model should the need arise, I truly believe we are at our best when we can deliver in-person classroom learning. Keeping our schools open this year will require a shared commitment by all of us to prevent the spread of COVID-19 in our community. We must remain vigilant with hand washing, social distancing, mask wearing and daily symptom screening in order to keep our students in class. It is our best game plan in staying open, and we need everyone's help.
Based on the community or school/district impact of COVID-19, any of the three learning scenarios outlined by the state—in-person, distance and hybrid learning—could apply at different times during the school year. Westonka's plans for all three models can be found on the district website: www.westonka.k12.mn.us/safelearningplan. We highly recommend that families make contingency plans for all three scenarios outlined in the Safe Learning Plan.
Learning Model Transitions
COVID-19 Surveillance & Response: Detailed information about Westonka's plans for monitoring and responding to cases of COVID-19 is available on the district website.
What Could Cause Us to Change Learning Models? There are two main reasons that Westonka would need to change learning models during the year:

Community Impact of COVID-19: The Westonka District COVID-19 Support Team will closely monitor county and local COVID-19 case data to determine if a learning model change is warranted.
School/District Impact of COVID-19: An individual school or the district may need to change learning models during the year in reaction to significant numbers of students and/or staff members placed in quarantine.

Transition Time Between Models:

Primary School: If one or both of Westonka's primary schools needs to switch from in-person to hybrid learning, families can expect a two-day transition period between learning models for rearrangement of classrooms and technology setup.
Middle and High School: If our secondary schools need to switch from hybrid to distance learning, we do not anticipate that any transition days will be needed.
Positive COVID-19 Case Response
If Westonka receives a report of a positive case(s) in the school community, the district will work directly with a Regional Support Team on contact tracing. The Regional Support Team will direct communication to families, the quarantine process and testing activities.
Due to data privacy laws, the district is not not allowed to share any names or personally identifiable information of individuals identified to have the virus. We recognize this can be frustrating. If there is a positive case of COVID-19 in our school community, the Minnesota Department of Health (MDH) allows the following level of communication to families:
All families of a school with a positive case(s) will be notified via email. If the positive case is a student in the hybrid model, the district will indicate if the student attends in-person school on "A" or "B" days.
All close contacts of the person(s) testing positive for COVID-19 will be contacted individually.
Quarantine Process
All close contacts of a person(s) testing positive for COVID-19 will be required to quarantine for at least 14 days after the last day they were in close contact with the person.
Primary Schools: A positive case of COVID-19 in one of Westonka's primary school classrooms (student or teacher) would likely cause the entire class to quarantine and pivot to distance learning. This is due to the length of time students remain in the same cohort throughout the day and the tendency for younger students to break social distancing.
Middle and High Schools: For positive cases at the middle and high school levels, close contacts (those within 6 feet for 15 minutes or longer and others with direct exposure) would be quarantined.
Daily Self-Screening
In order to keep our schools open and our community healthy, all students and staff who are learning/working in person MUST conduct a daily health screening and stay home from school if they aren't feeling well. Distance learning allows students to continue attending school remotely every day, so please do not risk sending a sick child to school.
Before you leave the house, or send your student to school, make sure you have assessed these questions:
Do you have any ONE of the following symptoms?


Fever (temperature 100.4°F or higher) without having taken any fever reducing medications
Difficulty or trouble breathing
New cough or a cough that gets worse
New loss of taste or smell

Do you have at least TWO of the following symptoms?


Sore throat
Nausea
Vomiting
Diarrhea
Chills
Muscle pain
Excessive fatigue (extreme tiredness)
New or severe headache
New nasal congestion or runny nose

Have you, or anyone you have been in close contact with in the last 14 days, been diagnosed with COVID-19?
Have you been asked to self-isolate or quarantine by a medical professional or a local public health official?
Are you, or is any member of your household who is symptomatic (has symptoms consistent with COVID-19), currently waiting for COVID-19 test results?
If you reply YES to any of the questions in the checklist, stay home and do not come to school.
Contact your health care provider to determine if further action should be taken
Westonka Schools will follow the MDH Decision Tree to determine when a symptomatic person can return to school.
Again, thank you for a positive start to this unusual school year.
Sincerely,