Return to Headlines
April 2 Superintendent's Update on COVID-19
April 2, 2020
Dear Westonka Families,
Please let me start by saying that I am incredibly grateful for your partnership, patience and grace during this unprecedented time. A month ago, none of us could have imagined the change we have experienced and the rate at which the change took place. But here we are, well into our first week of distance learning in Westonka Public Schools.
We have numerous success stories from the launch of our new learning model. Our staff has responded quickly and effectively to these ever-changing circumstances. It is clear how much they care about our students. Of course, there is still much room for growth and improvement as we continue on this journey, and I know our Westonka team will rise to the challenge.
Our success during distance learning wouldn't be possible without your cooperation. I understand the difficulties that this new learning model presents and do not underestimate the critical role that parents/guardians are providing in delivering this education to our kids. Thank you so much for your support.
Moving forward, I plan on providing updates once a week to families to limit my communication and address key topics. As always, please contact me as questions/concerns arise.
Weekly Points of Pride
Westonka Foodies - 900 free meals were served to students by curbside pickup and bus stop delivery on Wednesday.

Emergency Childcare - We are proud to provide childcare for emergency workers again this week. Our staff is working hard to provide a safe and healthy environment for these children to learn and play.

Technology Teamwork - As of Wednesday, our technology team had resolved 379 of 424 tech tickets submitted by parents and students.

New Special Services Director - I am proud to announce that Dr. Emily Rustman has accepted the position of Director of Special Services starting August 1. Dr. Rustman is currently our Assistant Director of Special Services. We are lucky to have her as a leader in our district.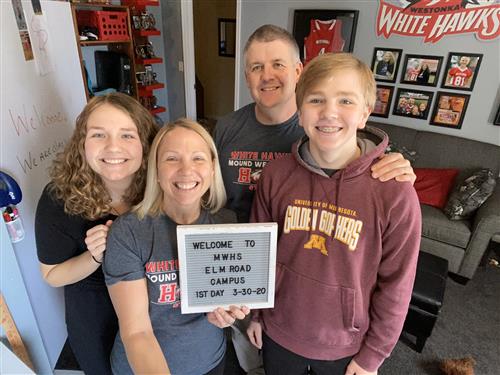 Click the above image for photos from Westonka's first week of distance learning
Distance Learning Updates
It has been heartwarming to see photos and hear stories of students and teachers engaging this week in their virtual classrooms. We are also aware of the stress placed on parents/guardians with different schedules and helping us deliver distance learning. Please know that our staff is working on needed adjustments so that our distance learning plan can operate more effectively. With that said, we also appreciate that different families have different stress points. [View the Westonka Public Schools COVID-19 Distance Learning Plan]
Technology Updates:

Our district technology team has been working hard to resolve student connectivity and access issues in these first days of distance learning. Their initial goal is to get all families set up with a reliable system to complete learning assignments.

If you are experiencing difficulty with any of the online tools, logging into a specific app or connecting to your wireless internet, please fill out the Parent/Student Technology Support Form and a Westonka support person will contact you between 8 a.m. and 4 p.m. on school days.

Like schools around the country, we had the added challenge that some of our web-based tools (e.g, Schoology and SeeSaw) experienced temporary outages due to record use. This is a new model for our vendors, just like it is for us, and they will continue to troubleshoot issues and make adjustments.
Share Your Feedback: We are all learners in this process, and we will continue to adapt and evolve to best meet our students' needs. Watch for a survey coming late next week in which you will be asked to provide feedback on our distance learning plan.
Reminders for Families
Free Meals for Students, Funded by the USDA - During the school closure, Westonka Foodies and Westonka Bus Service are teaming up to provide free meals to students. Parents and students can pick up these meals outside the Westonka Performing Arts Center at Mound Westonka High School or along designated bus routes. Pre-order is not needed for pickup OR delivery. Pickup times, bus stops and other details are posted at www.westonka.k12.mn.us/covid19/foodsupport. Please remember to practice safe social distancing during free meal pickup. Please stay at least 6 feet away from other families at school bus stops. During curbside meal pickup at MWHS, please remain inside your vehicle and wait for a staff member to greet you.

Emergency Childcare - Westonka Schools is proud to be providing childcare for our community's emergency workers during this critical time. Please visit our website for registration information: https://www.westonka.k12.mn.us/covid19/childcare

Playgrounds, Athletic Fields Closed - During the governor's stay-at-home order, all Westonka Public Schools athletic fields, courts and playgrounds are closed to the public. Minnesotans are directed to limit movements outside of their homes beyond essential needs through April 10. By limiting social interactions, we can all decrease the chance of transmission of COVID-19 in our community. For our healthcare workers and our loved ones... we can do this! Thank you for your compliance.
Budget Review
Our district finance team is projecting the financial impact of this school closure and making adjustments to lessen the impact. Our fee-based systems, especially Community Education, are the hardest hit.
I am in contact with our legislators and advocating for the potential flexibility to transfer capital funds to cover loss of revenue in our community education fund. For this reason, you will see a reduction in building improvements for next year. A few large projects (e.g., dehumidification of the high school gym) are already under contract and will move forward.
The Big Events, Including Graduation
Understandably, some of the most frequent questions we have received following the governor's school closure announcement center on spring events. School leaders are working through our list of upcoming events to determine whether they should be held (with or without modification), postponed or canceled. You will be receiving communication regarding these events in the coming weeks, which includes the process for fee reimbursement when applicable. For events currently scheduled in May or June, we are awaiting the governor's direction on how schools will operate for the remainder of the school year.
What I can tell you with certainty is that Mound Westonka High School will hold a graduation ceremony this year. Whether we can hold an in-person commencement or whether it will be a virtual ceremony is yet to be determined, but we will be ordering caps and gowns and continuing to plan. I am committed - along with our high school leaders and school board - to making this rite of passage for the Class of 2020 as special as it can be.
Spring Sports and Activities
As of today, no decision has been made by the state high school league with regard to spring sports and activities. In the coming days/weeks, White Hawks spring coaches will be communicating with student-athletes about at-home training and activities. Students currently enrolled in spring sports and activities received more information from Activities Director Jeff Peterson Thursday morning about the process for reimbursement should the 2020 season be cancelled.
Again, thank you for your continued partnership along this journey. In the upcoming weeks, I am prepared that this will become more stressful for our staff, families and our community as we deal with loss (opportunities, financial, health). My goal is to support you during this difficult time. We're all in this together. Please don't hesitate to reach out with any questions or concerns.
Sincerely,
Kevin