Return to Headlines
Thanks for Another Great Year, Westonka!
Borg Report May 30, 2019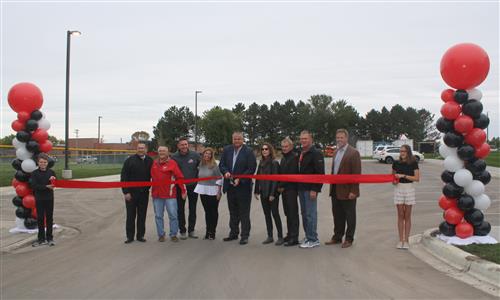 Ribbon cutting ceremony for the Westonka Performing Arts Center and Westonka Activity Center on Sept. 29, 2018
It sometimes feels like this year has flown by, but then I think back to the grand openings of the Westonka Activity Center and Westonka Performing Arts Center last fall and think, "Was that really this school year?"
We've had many reasons to celebrate this year in Westonka Public Schools, and I'm extremely proud of what our students, staff and families have accomplished together. The purpose of this lengthy message is to recap some key initiatives and outline next year's direction as it pertains to district finances, student mental health and school facilities.
District finances and referendum discussion
This year, the Westonka School Board approved a $300,000 spending reduction for 2019-2020. For the second year in a row, the board also plans to use district fund balance to help balance the budget. We estimate that $270,000 of fund balance will be needed to maintain our current offerings for next school year.
Due to multiple legislative demands, state aid to school districts has not kept up with inflation over the past decade. The state and federal governments' routine underfunding of mandated programs, such as special education, also creates significant budgetary challenges for all school districts. Westonka has been able to deal with these challenges in the past thanks to: sound financial management, a stable fund balance, strong community support, and growing enrollment. However, school enrollments are projected to level off in the coming years due to declining birth rates, and dipping into the district's "emergency fund" to avoid programming cuts each year is not sustainable.
For these reasons, the school board is considering alternatives to help close this funding gap in future years, which includes the possibility of restructuring the district's operating levy to align with enrollment projections. The board is currently gathering public input on this option. The decision on whether or not to move forward with an operating levy referendum will be made in August.
Continued focus on safety and mental health
Westonka Schools is committed to maintaining safe, healthy, supportive and welcoming learning environments. I truly believe that Westonka is a safe place to learn, work, live and raise a family. In fact, Westonka ranks as the No. 2 safest school district in Minnesota, according to Niche.com.
We believe that student mental health and wellbeing are crucial aspects of school safety. We are proud that our staff has engaged with this topic this year through a variety of professional development exercises, and we have taken steps to improve our students' mental health at all levels.
In December, the Westonka School Board unanimously approved changes to school start times district wide. The district arrived at the new start times, which will begin this fall, by looking at relevant research; gathering feedback from staff, students and parents; and considering logistics, such as transportation, that impact the student schedule. These changes were carefully designed to offer secondary students a later start, and specifically to provide them with added sleep that research has shown to be critical to development and learning.
| | | | | |
| --- | --- | --- | --- | --- |
| | Current Start Time | Start Time for 2019-2020 | Current End Time | End Time for 2019-2020 |
| Shirley Hills & Hilltop Primary Schools | 8:55 a.m. | 9:05 a.m. | 3:35 p.m. | 3:45 p.m. |
| Grandview Middle School | 7:40 a.m. | 8:10 a.m. | 2:35 p.m. | 2:50 p.m. |
| Mound Westonka High School | 7:41 a.m. | 8:20 a.m. | 2:45 p.m. | 3:00 p.m. |
This school year, we also added a dean of students position at the high school and a middle school counselor. These staffing additions will help us to support students who may be struggling and address mental health issues as they arise. Next year, we will be further examining our processes, measuring our efforts against best practices, and looking at available staff to support our mental health initiatives.
Facilities improvements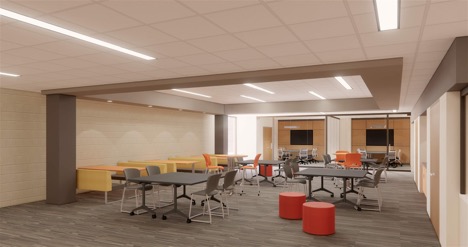 Summer 2019 construction projects include a new business center at Mound Westonka High School
We kicked off the 2018-2019 school year with the opening of two new community facilities. Now, it's hard to remember a time before the PAC and WAC. Both facilities are being fully utilized by people of all ages in our community. Other facilities improvements this year included parking lot additions and lighting improvements at Mound Westonka High School and Grandview Middle School.
In April, the school board voted to end the district's lease of Stonegate Plaza in Mound. The 3-year-old preschool and 3-year-old Adventure Club programs will move to Shirley Hills Primary School for the 2019-2020 school year. ECFE programming will be offered at the Educational Service Center starting this fall. To make this transition, the district has begun making some capital improvements to Shirley Hills and to the ESC. [Read more about the background on this move]
The board's long-range plan for the district's early learning programs is to move forward with Phase II of the Early Learning Center, which opened in 2017 on the Hilltop Primary School campus. Phase II will require a voter-approved bond, but more study—on enrollment trends, grade configuration, programming needs, etc.—is needed before the district can go to the community with a bond referendum request. The school board will be establishing a Facilities Work Group during the 2019-2020 school year to begin this study. This group will also examine:
Districtwide space needs, including athletic space
Modernization of educational spaces
Grade configuration
Safety/security enhancements
Some facilities improvements taking place over the summer include a new high school business center, parking lot lighting improvements at Shirley Hills Primary School and electrical switchgear installation at MWHS.
We achieved a lot thanks to our collective efforts this school year. I wish you all a safe, relaxing and fun summer. If you have questions about our direction for next year, please don't hesitate to contact me directly.
Sincerely,