Return to Headlines
Pushing Ahead with Bold Plans for 2017-2018
Borg Report April 20, 2017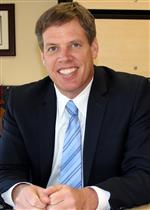 As is always the case this time of year, our schools are winding up to wind down. State testing, spring sports and activities, and planning for end-of-year celebrations are now in full force, and everyone is working hard to make the final weeks of school both positive and productive.
The district is pushing ahead with some exciting and bold plans for next school year. I have provided brief updates on three areas of focus. If you would like more information about our direction for 2017-2018, please don't hesitate to contact me directly.
2017-2018 budget adjustments
Like you, the Westonka School District understands the importance of living within its means. We work hard to ensure financial health by continually reviewing operations for new efficiencies at all levels and making annual budget adjustments. Earlier this month, the Westonka School Board approved a plan to deal with a $75,000 budgetary alignment for the 2017-2018 school year. [View a summary of the reduction plan]
Staffing changes
With changes to enrollment will come changes in staffing for the 2017-2018 school year. We are budgeting for 165 incoming kindergarteners for next year, which is up from 145 this year. We will add an additional kindergarten section to accommodate the growth. Additional staff will also be added to support increased enrollment in the high school grades.
We are excited that Nick David will be moving into a new role as assistant principal at Grandview Middle School next year. Grandview has seen recent growth in the student population, which has resulted in greater need for counseling support. The assistant principal will have more days and authority than the dean of students position (which will be eliminated) to take on additional responsibilities currently assigned to the guidance counselor. This approach proved more cost effective than creating a partial position to provide support.
Another exciting change for next year will be the addition of an assistant director of special services. Some of the initial efforts will be overseeing our Level III Emotional Behavioral Disorder (EBD) programs and Intermediate District 287 programming, and designing and implementing a Transition Plus program for students who currently attend Intermediate 287. The addition of Transition Plus is expected to improve our program for young adults who are eligible for special education transition services and bring a significant savings to our district.
Facilities update
Painting and ceiling grid installation is currently taking place at the new early learning center at Hilltop Primary School. We are on track for a July opening of this new facility, which will house the district's four-year-old preschool program. This project represents Phase One of a two-phase early learning center and is funded by the district lease levy and district and community education fund balance. The eventual second phase of the project will move the ECFE and three-year- old preschool programs out of Stonegate Plaza in Mound and onto the school campus. The timing of Phase Two will depend on preschool enrollment.
We will begin work in June on improvements to Mound Westonka High School Field 1 (also known as Soule Field), the Shirley Hills Primary School gymnasium and the MWHS track. The district will communicate any changes to campus accessibility later this spring. Summer work at these locations will be wrapped up in mid-August.
Finally, please save the date for a groundbreaking celebration at 5 p.m. on May 15 for the Westonka Activities Center and Performing Arts Center at MWHS. The celebration is open to the public and will include an in-depth look at the facilities' design from the architects. Look for more information to come in Westonka News.
Westonka Schools appreciates your continued support as we work toward our vision of "an innovative district delivering educational excellence." We do not take this support for granted, and I encourage you to engage with us if you have any questions about our goals or direction.
Sincerely,