Return to Headlines
Westonka Musicians Tour 'The Big Easy'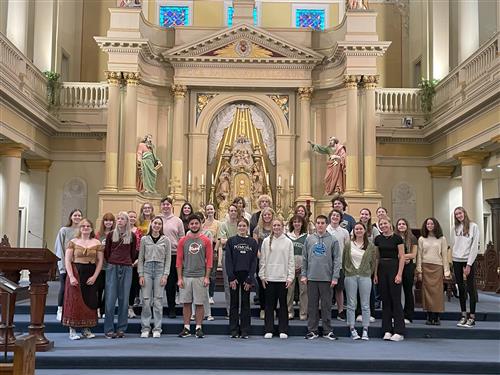 Click on the above image for more photos of the New Orleans tour.
November 16, 2023 — The Mound Westonka High School Wind Ensemble and Concert Choir took part in a whirlwind educational and performance tour of New Orleans Nov. 9-13. A packed itinerary included performances and clinics by the two groups, along with lots of sightseeing.
The first full day in New Orleans started with clinics and workshops for both groups at Tulane University under the direction of Barry Spanier and Dr. Leonard Raybond. The choir performed for visitors at the St. Louis Cathedral, while the band performed an outdoor concert at Lt. Governor Oscar James Dunn Artillery Park.
"We are so proud of our students," said band director Gretchen Chilson. "Many times during the trip, people would stop us to say what a respectful, polite, musical group of kids they were!"
Students and chaperones participated in a Jean Lafitte Swamp Tour, a visit to Laura Plantation and a tour of the New Orleans Jazz Museum.
"We are so proud that our students engaged in all of the activities that were provided during this tour," said choir director Kelly Newell. "Our musicians tried many new foods, danced to jazz and creole music, and took every opportunity to learn about the culture of New Orleans."
A trip to New Orleans is not complete without a visit to the famous French Quarter, the Audubon Zoological Gardens, Preservation Hall, and the New Orleans Museum of Art. Evening activities included a Haunted History Tour, dinner at a Cajun restaurant, and a dinner riverboat cruise on the City of New Orleans. Prior to the cruise, the band gave an outdoor performance on the Toulouse Street Wharf.
Before leaving "The Big Easy," both groups gave outdoor performances at the Col. Battle Barksdale Parade Ground, followed by a tour of the National WWII Museum.
"I'm so grateful for our families, boosters, and especially chaperones who invested in this tour," said Chilson. "It was an experience of a lifetime for many of our students!"
"Well done, Westonka band and choir students!" added Newell.
The MWHS Wind Ensemble and Concert Choir, the school's top two auditioned groups, go on tour every other school year. The trip expenses are covered by student fundraising and the families of the participants.
---