Return to Headlines
Student Senate Makes Plans to Engage Students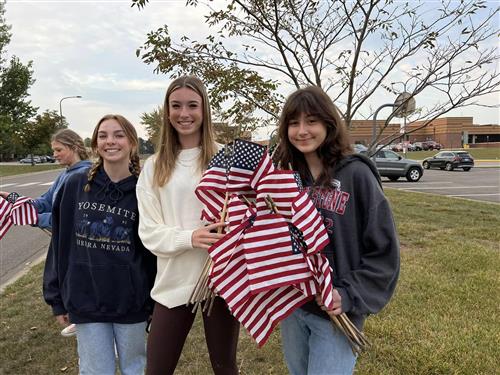 Click on the above image for more photos from Student Senate activities.
September 19, 2023 — The Mound Westonka High School Student Senate's main goal is simple: students serving students.
"Student Senate is excited about a really fun and engaging year with the students and staff of MWHS," said Advisor Jamie Harms. "From Homecoming events to Prom, with Staff Appreciation, Stuff the Bus, and so much more in between, the Senate's goal this year is to engage all students of MWHS in many different events."
The 31 members of Student Senate, under the leadership of President Natalie Miner, Vice President Olivia Adam, Secretary Sammy Krahl, Communications Officer Stella Miner, and Treasurer Emma Carlson began planning for the year at an August 8 Summer Leadership and Planning Retreat at MWHS. Led by officers and executive leaders, the Leadership Bootcamp focused on making plans for Homecoming, setting goals for the 23-24 school year, big idea discussion groups, and brainstorming sessions on what MWHS leaders can do for the school culture.
Not only is each grade level at MWHS represented in the Senate, several MWHS leaders also serve on county and state level boards. Senior Kendall Sebasky is President of the Minnesota Association of Honor Societies, while senior Caryn Childers serves as Vice President of the Minnesota Association of Student Councils. Senior Maisie Wheeler is Secretary of the Hennepin Division Board, while senior Alissa Brandt is Member at Large of the same group.
One of the first Senate projects of the year involved placing American flags around the MWHS campus on the morning of September 11 to pay tribute and honor the lives lost during the 9/11 events. The project is inspired by this quote from former President Barack Obama, "Even the smallest act of service, the simplest act of kindness, is a way to honor those we lost, and a way to reclaim the spirit of unity that followed 9/11."
Harms exclaimed that even though this year's student leaders had not yet been born when the events took place, the Senate feels it's important each year to do this small act to honor the day. Students and staff were also asked to do any small act of kindness that day to remember the innocent men, women, and children who lost their lives. The flags remained on campus for the entire day.
Harms summed up the Student Senate's mission:
"We share a passion for service and representation of our fellow White Hawks. Student Senate builds responsible leaders within our school community and promotes the value of good character in all students. Members respond to student issues and create student activities that promote enthusiasm, school spirit, and build a community where each member is valued and respected. Student Senate members work with students, staff, parents, and administrators to listen to student voices and make things happen in a timely manner."
---