Return to Headlines
League of Women Voters Announces Candidate Forum for Westonka School Board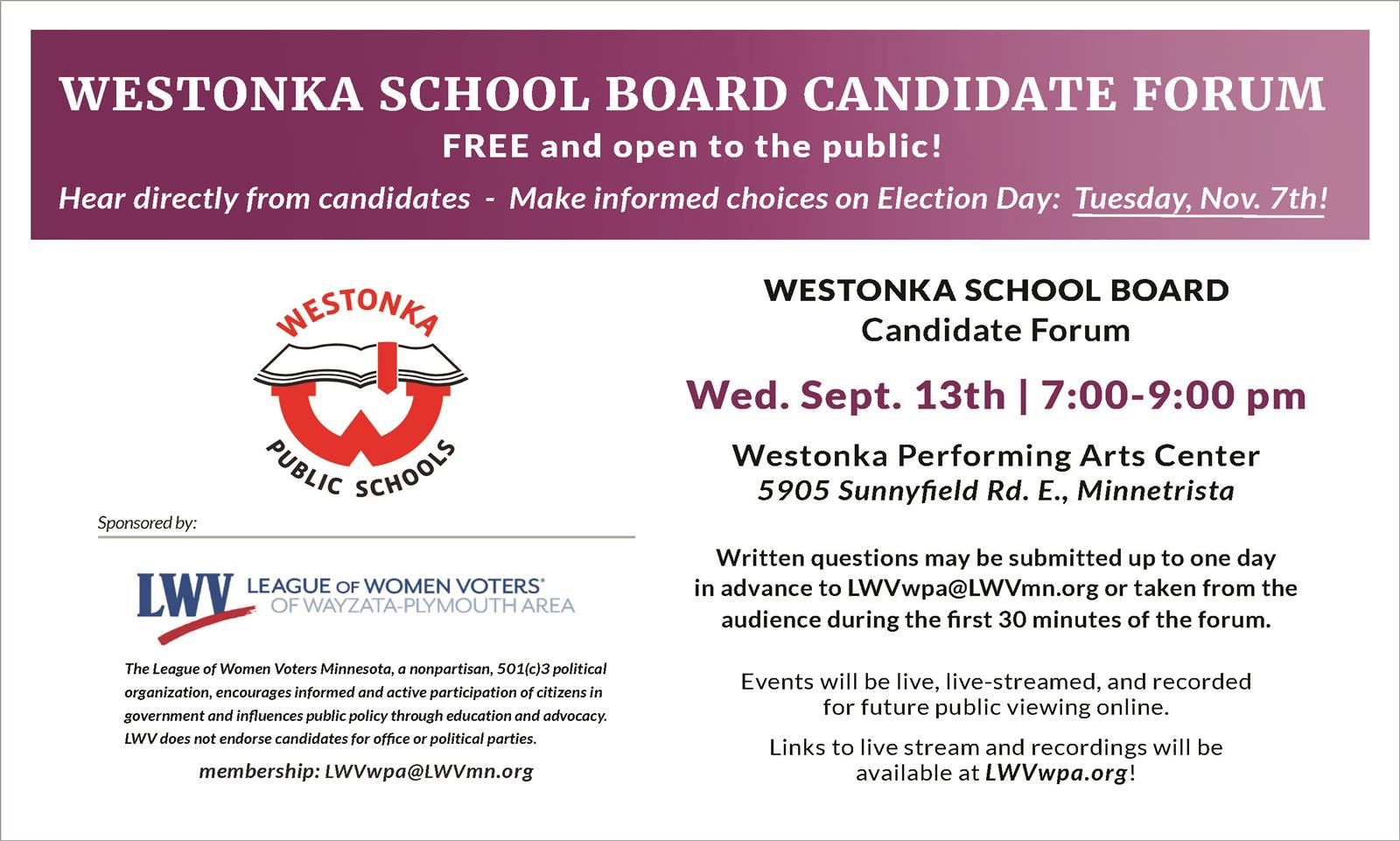 August 21, 2023—The League of Women Voters Wayzata-Plymouth Area will host a candidate forum for the Westonka School Board. There are four school board seats on the November 7, 2023 ballot.
The forum will be held on Wednesday, September 13, 2023 at 7 p.m. at the Westonka Performing Arts Center, 5905 Sunnyfield Road E, Minnetrista. The forum is free and open to the public. The forum will also be live streamed and recorded for future public viewing online.
Invited candidates running for Westonka School Board are:
Ralph Harrison
Heidi Marty
David W. Olson
John J. Quinn
Christopher Reffkin
Brian Roath
Forum Format
Candidates will respond to questions on a wide variety of issues of concern to voters. A League of Women Voters member will moderate.
During the forum, candidates will deliver a 1-minute opening statement. Each candidate will have 1 minute to answer the questions posed by the moderator. Candidates will also give a 2-minute closing statement.
Questions in Advance
Voters may submit written questions in advance to lwvwpa@lwvmn.org, no later than one day prior to the forum.
The League asks that submitted questions indicate the name of the forum in the subject line. By League of Women Voter policy, the identity of the person asking the question is confidential. Any questions submitted via email will remain confidential with all identifying information removed before the event.
Attendees at the forum will receive note cards to submit written questions during the first 30 minutes of the forum. The moderator will pose all questions to the candidates. No questions are allowed verbally from the floor. Questions must be directed to all candidates.
Candidate Forum Purpose and Policy
The League of Women Voters Wayzata/Plymouth Area is sponsoring this event to bring nonpartisan voter education to the local community and to provide an opportunity to hear directly from the candidates, so voters can make informed choices.
The League of Women Voters Candidate Participation policy states that all forums will be held as scheduled, even if one of the candidates is unable or unwilling to attend. The candidates in attendance will have an opportunity to express positions on issues in their opening and closing statements and in response to questions posed by the moderator.
The League of Women Voters does not endorse candidates for office or political parties. It is a 104-year old 501(c)3 political organization that encourages informed and active participation of citizens in government and influences public policy through education and advocacy. Membership is open to all. To learn about membership opportunities, to get the most up-to-date forum information, and to access the recording of the forum, visit www.lwvwpa.org.
---