Return to Headlines
Superintendent's Letter to the Class of 2023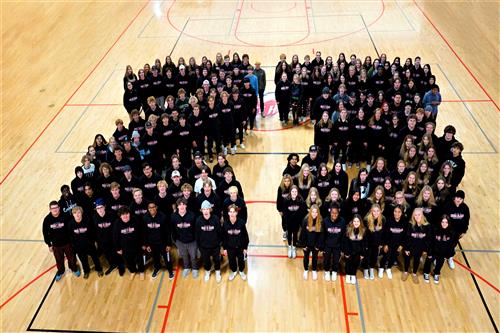 The MWHS Class of 2023
Dear Mound Westonka High School Class of 2023,
As superintendent of Westonka Schools, I look forward to each spring, when we come together with family, friends and the community to celebrate our soon-to-be Mound Westonka graduates and boast about your achievements. The class of 2023 continues to impress me each day and it is my privilege and honor to share some of your many accomplishments and accolades from this past year.
High Achievers
MWHS has been consistently ranked as one of the top high schools in the nation by U.S. News & World Report and Niche. This would not have been possible without the dedication and hard work of the Class of 2023.
An impressive 57 MWHS seniors are members of the National Honor Society. The College Board recognized nine members of the Class of 2023 for outstanding achievement on Advanced Placement exams in 2022. Many more will be recognized later this summer for 2023 AP test results. Of special note, Emily Schneider and Laura Sunnarborg were named AP Scholars with Distinction Award last year, and William Wallace and Matthew Uhas were awarded AP Scholar with Honor. Additionally, Laura Sunnarborg and Dylan Mater were both named a National Merit Commended Student.
Laura Sunnarborg and William Wallace were the Class of 2023 winners of the ExCEL Award, which recognizes excellence in "community, education and leadership." Sunnarborg, along with Daniel Kaczanowski, also earned the Triple "A" Award for excelling in the classroom, on the athletic field and in the fine arts.
Continuing a long tradition of success, 22 MWHS seniors went to state in DECA this year and 16 qualified for the International Career and Development Conference in Orlando. Ellen Pruitt had the distinction of taking first place at state in her Integrated Marketing Campaign for the third year in a row.
Athletic All-Stars
It was another banner year for White Hawks athletics, with 14 seniors to date competing at state this school year.
The Hawkettes dance team made a historic trip to the 2023 MSHSL state tournament, where the team placed first in high kick and third in jazz. Seniors competing on the team were Josie Moen, Kendall Schissler, Hannah Hunter, Avery Roerig, Jaden Houston, Madi O'Mara, and Malia Velarde. Schissler, Hunter, Moen and Roerig were also named to the Wells Fargo All-Tournament dance teams.
Mound Westonka High School senior Reagan Kelley captured her second consecutive individual Class A all-around title with a four-event combined score of 38.5750. Kelley was also recognized as Star Tribune Prep Athlete of the Week for her achievements.
The girls swim and dive team, featuring four members from the Class of 2023, earned a program-high third-place finish in the MSHSL Class A State Tournament. Seniors Kate Johnston and Jaylyn Storm were part of the 200 medley relay team crowned state champion.
White Hawks boys wrestling team placed fourth overall at state in the MSHSL Class AA standings. Senior Sam Dioszegy finished as a state runner-up. Dioszeghy, along with classmate Abigail Hollenstein, were also named this year's Yost/Haddorff/Leopold award winners. These awards are presented annually to the school's top male and female senior athletes.
Individual and team accomplishments go on and we're excited to see more success from our spring sports programs!
Award-Winning Artists
In the arts, MWHS Band presented Savanna Newell with the Outstanding Musician Award, Emily Schneider with the Patrick S. Gilmore Award, Daniel Way with the Louis Armstrong Jazz Award, and Cece Linkert with the John Philip Sousa Award. These awards recognize musicians for their outstanding musical achievement and dedication to the program. Cece Linkert was also named to All-State Band.
In choir, Lydia Oliverson, Rosy Gomez-Gonzalez earned a "Best in Site" award for their vocal trio at this year's solo-ensemble competition. Serenity Bownik, Robin Baker, Lydia Oliverson, Connor Houston, and Noah Wolf were awarded "Best in Site" for their Superior Ensemble Group Madd Jazz.
Connor Houston, Haley Kummrow and Ashlee Johnson earned Hennepin Theatre Trust Spotlight Awards for their work in "The Play That Goes Wrong." Five seniors were national speech tournament qualifiers and Wade Carlin was named to All-State Speech.
MWHS is also home to acclaimed visual artists. Nora Sipprell earned Honorable Mention in the 2023 Scholastic Art Awards. Seniors Anna Nelson and Campbell Schwab received Awards of Excellence from the Minnesota State High School League for their artwork this school year.
Community Leaders
The Class of 2023 showed a commitment to giving back to your school and community. Fifty-four members of the Class of 2023 served as Link Crew mentors for underclassmen. Your class also raised thousands of dollars for the Westonka Food Shelf and hosted multiple donation drives for WeCAN. We are thankful for your generous spirit!
NHS students contributed an incredible 1,813 hours of personal time in service throughout the community this year, led by senior Campbell Schwob with nearly 40 hours of service. Students offered their talents to the Westonka Food Shelf, Second Harvest, Feed My Starving Children, Lowry Nature Center, several Westonka youth athletic programs, and many other local organizations. In addition to your volunteer hours, the NHS chapter hosted two blood drives in cooperation with the Memorial Blood Center this year, maintained your adopted highway, and cleaned up the MWHS campus and Haddorff Field.
Your Legacy
As you walk across the stage on Wednesday, I hope that you will look back on your time in Westonka with pride. Your championships, awards and trophies speak for themselves, but what is often less celebrated is the behind the scenes work and small victories. Behind the scenes, I see a class who is focused and diligent with their studies and school work. A class who continues to challenge themselves with high expectations and step outside of their comfort zones. And most importantly, I see a class who takes care of their peers and their community.
Class of 2023, thank you for everything that you have given to our school and community. All of us at Westonka look forward to seeing all the great things to come from the Class of 2023!
View a list of awards and accolades of the MWHS Class of 2023*
Sincerely,
Kevin Borg, Superintendent
(952) 491-8001
borgk@westonka.k12.mn.us
*Please note: We did our best to capture all of the outstanding accomplishments of the senior class. Please let us know if we missed you or someone you know by emailing labuze@westonka.k12.mn.us.
---