Return to Headlines
MWHS Theatre to Present 'Oliver!'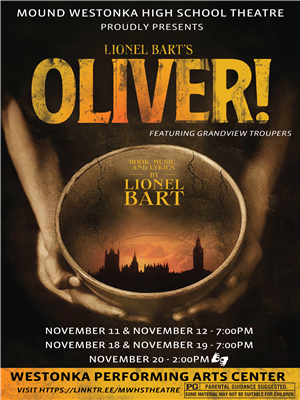 November 3, 2022 — Consider yourself at home as Mound Westonka High School Theatre proudly presents Lionel Bart's classic musical based on the Charles Dickens novel, "Oliver Twist." "Oliver!" is a musical theatre masterpiece, perfectly showcasing the talents of a large ensemble cast, including Grandview Middle School performers, as they bring these classic characters and score to life. The MWHS production will be held at the Westonka Performing Arts Center November 11-12 and November 18-19 at 7 p.m., as well as November 20 at 2 p.m. (ASL interpretation at November 20 performance).
The streets of Victorian England come to life as Oliver, a malnourished orphan in a workhouse, becomes the neglected apprentice of an undertaker. Oliver escapes to London and finds acceptance amongst a group of petty thieves and pickpockets led by the elderly Fagin. When Oliver is captured for a theft that he did not commit, the benevolent victim, Mr. Brownlow, takes him in. Fearing the safety of his hideout, Fagin employs the sinister Bill Sikes and the sympathetic Nancy to kidnap him back, threatening Oliver's chances of discovering the true love of a family.
The show comes with a PG rating - mature themes may not be suitable for all ages.
Tickets are $7 for students and seniors, and $12 for adults, and are available through the MWHS Theatre Linktree and the Westonka PAC website. Holders of a VIP Gold Card (available at the school district office for Westonka residents age 62+) should contact Megan Lhotka at lhotkam@westonka.k12.mn.us or (612) 483-8357 to get their free ticket to the high school musical. Lhotka can address other ticketing questions as well.
Cast List

Oliver

Joey Asche

7

Fagin

Jack Hanson

11

Artful Dodger

Scarlet Eder

6

Bill Sikes

Joseph Wolf

11

Nancy

Haylee Larson

10

Bet

Cerisa Bray

9

Mr. Bumble

Braxton O'Quinn

12

Mrs. Corney

Brenna Vogel

9

Mrs. Sowerberry

Brooque Moy

11

Mr. Sowerberry

Thomas Duggan

11

Noah Claypole

Tristen Larson

10

Mr. Brownlow

Mason Butzow

11

Dr. Grimwig

Calvin Pouchnik

10

Mrs. Bedwin

Serenity Bownik

12

Charley Bates

August Lang

8

Charlotte

Gracie Specht

9

Old Sally

McKenzee Fredricksen-Stephens

11

Noah Claypole

Tristen Larson

10

Varsity Chorus & Featured Performers

Trevor Andrews (10), Orrin Butterfield (8), Ida Butterfield (8), Shi'ann Covin (10), Terin Jaap (10), Haley Kummrow (12), Maeve Linkert (12), Sofia Martinez (9), Ronan Smith (8), Alex Udeen (11)

Orphan Chorus

Peter Berg (5), Weston Bruch (5), Wes Bruckner (6), Trygve Decker (6), Brooke Fosler (5), Cora Harding (5), Hanlon Jaap (7), Kaia Kallestad (7), Amira Lao (5), Poppy Lehtola (7), Eleanor Lenz (5), Simon Lhotka (5), Natalia Mobagi (5), Sadie Mulder (7), Harriett Pettitt (6), Carson Roath (5), Lisell Sheridan (6), Lauren Tschimperle (7), Delaynie Vogel (6), Ben Windy (5), Westley Wong (5)
Technical Crews

Student Stage Manager

Connor Houston

12

Crew Chief

Abigail Vogel

11

Sound Board Operator

Evelyn Gawtry

9

Flycrew

Payton Waltz

9

Erin Weber

12

Megan Stein

11

Spot Operators

Max Royal

9

Edie Baker

8

Fog & Effects Operators

Megan Stein

11

Erin Weber

12

Run Crew

Kylee Christ

8

Corbin Vogel

8

Samantha Parise

8

Audrey Rodewald

8

Makeup Assistant

Edie Baker

8

Costume Crew

Hannah Christenson

9

Sarah Goralczyk

9

Construction Crew

Dax Muston

11

Ashley Weed

12

Violeta Galan-Diaz

10

Shaye Dread

8

Nora Gawtry

9
Production Staff
Artistic Co-Directors: Joe Lawrence & Mary Todd Kaercher
Assistant Director & Costume Designer: Jamie Harms
Vocal Director: Melissa Bray
Orchestra Director: Gretchen Chilson
Choreographer: Kerri Olson
Set Designer: Joshua Barnd
Technical Director: Meghan Trandahl
PAC Coordinator: Kelly Newell
---