Return to Headlines
MWHS Seniors Qualify for DECA Internationals in Virtual Business Challenge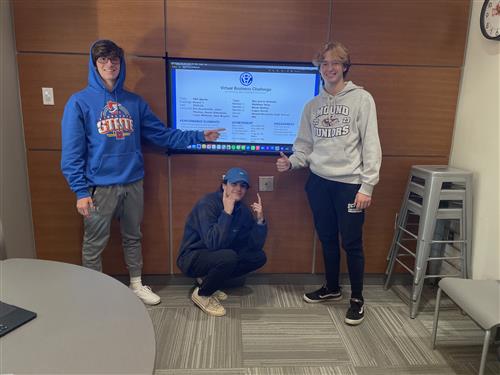 Pictured, from left, Mound Westonka High School seniors Logan Kevitt, Matthew Uhas and Dylan Mather competed in October in DECA's Virtual Business Challenge, qualifying for DECA Internationals after finishing sixth in the nation in the VBC Sports competition.
November 2, 2022 — Mound Westonka High School seniors Logan Kevitt, Dylan Mather and Matthew Uhas have qualified for the DECA International Career and Development Conference (ICDC) after finishing sixth in the nation last month in DECA's Virtual Business Challenge. The 2023 ICDC will be held April 22-25 in Orlando.
High school DECA members had the chance to participate in eight Virtual Business Tracks this year: VBC Entrepreneurship, VBC Fashion, VBC Accounting, DECA Hotel Challenge, VBC Personal Finance, VBC Restaurant, VBC Retailing and VBC Sports. Each track encourages DECA members to test their skills within its particular virtual business environment – individually or as a team of up to three members.
Kevitt, Mather and Uhas competed as a team in the VBC Sports track, which encouraged DECA members to test their skills at managing a football franchise. They were tasked with managing concessions, booking events, analyzing players, choosing ticket prices, organizing staffing needs, coordinating parking logistics, and more. Teams were ranked based on their franchise's total profit after running a simulated football season.
The MWHS team, which went by the name "See you in Orlando.," finished first out of 10 Minnesota teams, second out of 102 teams in the Central Region and sixth overall to advance to Internationals. Their best score was a profit of $19,599,770.
Uhas said that the most challenging part of the competition was becoming familiar with the software and optimizing their system in order to maximize output. "We had to work with the simulation countless times in order to identify certain successes and difficulties," said Uhas.
"My favorite part about the simulation was the cooperation of our team," Uhas added. "We managed our time wisely and worked harder than we have ever before. Staying after school and up into the AM hours proved to pay off."
Other members of the Westonka DECA Chapter will have the chance to qualify for ICDC later this school year by advancing through the regional and state competitions. The DECA District competition will take place January 8, 2023.
About Westonka DECA
DECA prepares emerging leaders and entrepreneurs for careers in marketing, finance, hospitality and management. DECA enhances the preparation for college and careers by providing co-curricular programs that integrate into classroom instruction, apply learning, connect to business and promote competition. The Westonka DECA program is led by advisors Sue Simonson, Alex Wagner, Lizzie Williams and Nelson Krause.
---