Return to Headlines
Homecoming 2022 Was a Smashing Success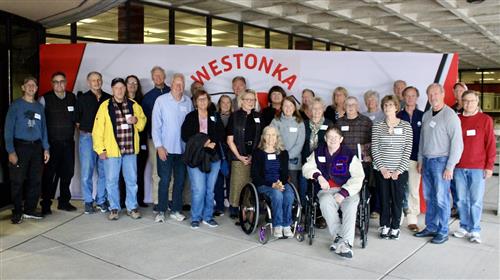 The Homecoming Alumni Breakfast attracted a good crowd on Friday morning. Pictured are members of the Mound Westonka High School Class of 1972.
Click on the above image for more pictures of the Homecoming festivities.
September 28, 2022 — With only weather standing in the way, Homecoming 2022 was a smashing success. From the coronation of Homecoming Queen Savanna Newell and King Naresh Thakurdial on Sunday to the Homecoming dance on Saturday night, enthusiastic crowds and events designed for the entire community contributed to an exciting week.
"We saw so many happy faces at our events like the pep fests at MWHS and GMS, along with morning welcomes at Shirley Hills and Hilltop," said senate advisor Jamie Harms. "We squeezed in a parade and got to show our community pride in being White Hawks just before the rain fell."
"From the junior royalty to the senior court, the hard-working Senate members and the enormous help from our administration, it is without a doubt that Homecoming '22 made for some really wonderful memories," Harms added.
The annual alumni breakfast on Friday morning attracted alumni from generations of Westonka classes to reminisce and share their stories. Alumni enjoyed breakfast, a photo montage of classes through the years, as well as some student and alumni speakers.
Westonka's athletic teams hosted neighboring schools during the week, while students in each of the schools took part in daily dress-up days and other activities. Friday was a day of celebration as students throughout the district wore their White Hawks apparel and participated in the pep fest and parade.
While expected rain canceled the pre-game carnival, entire families gathered to watch the many different participants in the parade, from groups and activities within Westonka Schools, to businesses in the Westonka community.
"Homecoming 2022 was a great week for students, staff and the wider community," said MWHS Principal Jolene Herfel. "Students made lasting memories by choosing to get actively involved and show their school pride throughout our many homecoming activities."
"Even though rain was a part of the week's events, I am proud of our students for truly making the most of it!" added MWHS Assistant Principal Marty Fischer. "Our students regularly rise to the occasion and make special events truly meaningful by their involvement, positive energy, and great sportsmanship. It was truly a great week!"
Student Senate members and advisors Jamie Harms and Dale Kimball put many hours of service into making Homecoming Week truly memorable for all.
"Our Student Senate leaders are amazing! The dress-up days were as successful as I have ever seen them!" said Fischer, who added that the pepfest was "really well done" and fun for everyone. "The parade and other activities were pulled off in the midst of everything else. Then, they got up early to set up and decorate for a really well-attended Homecoming Dance," he continued. "Thank you, Student Senate!"
---