Return to Headlines
Pair of MWHS Seniors Named National Merit Commended Students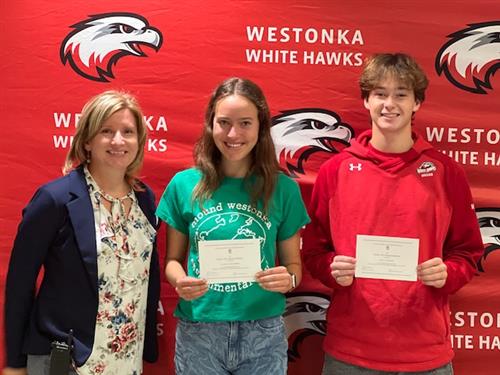 Mound Westonka High School Principal Jolene Herfel presents seniors Laura Sunnarborg and Dylan Mather with Letters for Commendation from the National Merit Scholarship Corporation, recognizing them both as Commended Students.
September 27, 2022—Two Mound Westonka High School seniors have earned Commended Student recognition in the 2023 National Merit Scholarship Program. Laura Sunnarborg and Dylan Mather were among the approximately 34,000 students to receive the recognition out of more than 1.5 million students who took the Preliminary Scholastic Aptitude Test (PSAT) last year.
About 50,000 PSAT test takers are recognized each year by the National Merit Scholarship Corporation as "high scorers," and approximately two-thirds of the high scorers are recognized as Commended Students. Although Commended Students do not continue in the competition for National Merit Scholarships, some of these students do become candidates for special scholarships sponsored by corporations and businesses.
"We are proud to celebrate with Laura and Dylan as they receive this honor," said MWHS Principal Jolene Herfel. "As commended scholars, their years of dedication in the classroom have prepared them to be successful. We are grateful for their representation in the National Merit Scholarship Program."
Laura Sunnarborg, daughter of Alicia and Mike Sunnarborg, serves as co-president of the MWHS DECA Chapter, is an executive member of MWHS Student Senate and president of the Hennepin Division Board of the Minnesota Association of Student Councils. She is also president of the MWHS Environmental Club and co-founded the Greater Twin Cities High School Environmental Coalition. Sunnarborg is also involved in Link Crew and NHS and is captain of both the cross country and track teams. After graduation, she plans to focus on environmental studies with the intention of entering a pre-law program.
Dylan Mather, son of Caralyn and Colin Mather, is involved in NHS, Link Crew and DECA at MWHS. He serves as captain of the White Hawks boys soccer team and also plays volleyball and tennis. Mather intends to pursue a degree in computer science next fall.
"Those being named Commended Students have demonstrated outstanding potential for academic success," commented a spokesperson for the National Merit Scholarship Corporation. "These students represent a valuable national resource; recognizing their accomplishments, as well as the key role their schools play in their academic development, is vital to the advancement of educational excellence in our nation. We hope that this recognition will help broaden their educational opportunities and encourage them as they continue their pursuit of academic success."
---