Return to Headlines
Grandview Teams Join FIRST Lego League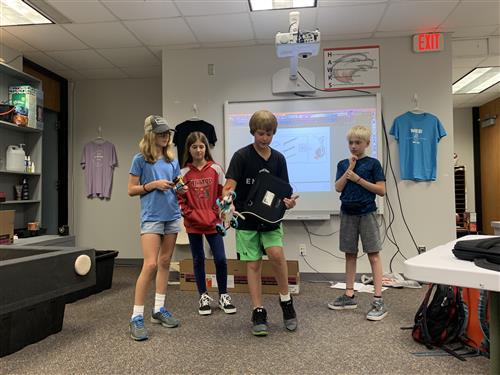 Click on the above image for more photos of the FIRST Lego League.
September 21, 2022 — Grandview Middle School students can participate in a new activity this year – the FIRST Lego League, which introduces science, technology, engineering and math (STEM) to children through fun, exciting hands-on learning. The GMS program is involved in the Challenge Level, but the program includes two additional levels for younger students.
Participants gain real-world problem-solving experience through a guided, global robotics program, helping today's students and teachers build a better future together. The three levels inspire young people to experiment and grow their critical thinking, coding, and design skills through hands-on STEM learning and robotics.
Friendly competition is at the heart of Challenge, as teams of students engage in research, problem-solving, coding, and engineering - building and programming a LEGO robot that navigates the missions of a robot game.
The two GMS teams, comprised of 10 students each, are led by parent coaches Chuck and Andi Hayes, as well as Shirley Hills technology teacher Katie Davis. The students meet once per week on Wednesdays until the competition, which will be held in early December.
Coach Chuck Hayes explained that the competition consists of two main parts:
The innovation challenge, in which students choose a problem and come up with a solution to that problem, do research and present their project to the judges.
The robot challenge, in which students program their Lego robot to complete a series of challenges on a premade game board, there is also a presentation to the judges about their robot and the process they went through during the season.
"Andi and I had previously hosted teams for the elementary aged FIRST Lego League Explore level, which is a simpler version where there is no scored competition, more of a celebration of everyone's work," said Hayes. The family moved to the Westonka district in 2020 and now have a student at GMS. Some long-time friends helped put them in touch with Assistant Superintendent for Teaching and Learning Mark Femrite to get a program started at GMS.
"Andi is very passionate about girls in STEM fields and loves helping inspire kids through programs like this," added Hayes, a software engineer at Google with an academic background in robotics. "I spend much of my free time coaching youth hockey and love seeing them learn and grow. This program is a natural combination of all of that!"
For more information, visit www.firstlegoleague.org.
---