Return to Headlines
Westonka Selects Homecoming 2022 Royal Court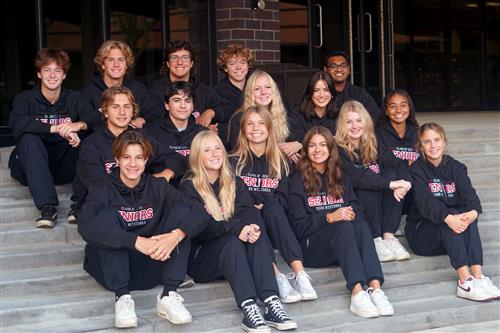 Members of the Royal Court include, front row, from left: Max Buescher, Grace Ruud, Paige Ostrowski, Micah Boyce, Eve Seckinger, Nora Sipprell. Middle row: Daniel Kaczanowski, Matthew Uhas, Abby Hollenstein, Savanna Newell, Alicia Hatlestad. Back row: Dylan Mather, Ethan Garlock, Sam Dioszeghy, Scott Greenshields, Naresh Thakurdial.
September 15, 2022 — Mound Westonka High School Student Senate is gearing up for Homecoming Week, which will be held September 18–24. The members of the Royal Court were announced this week. The week's festivities begin with the crowning of the Homecoming King and Queen in a coronation ceremony on Sunday, September 18, at 7 p.m. at the Westonka Performing Arts Center. The event is free and open to the public.
The 2022 Homecoming Court ladies include seniors Micah Boyce, Alicia Hatlestad, Abigail Hollenstein, Savanna Newell, Paige Ostrowski, Grace Ruud, Eve Seckinger and Nora Sipprell. And congratulations to the 2022 Homecoming Court gentlemen – Max Buescher, Sam Dioszeghy, Scott Greenshields, Ethan Garlock, Daniel Kaczanowski, Dylan Mather, Naresh Thakurdial and Matthew Uhas.
The Royal Court will reign over a week of Homecoming activities, including dress-up days, pep fests, the Homecoming parade and carnival, and a host of athletic competitions, including the Friday night football game when the White Hawks will host DeLaSalle at 7 p.m. at Haddorff Field. The traditional bonfire will take place that evening as well.
The week wraps up with the semi-formal Homecoming dance on Saturday, September 24, in the MWHS courtyard, followed by the annual Powderpuff football game on Sunday, September 25.
The Student Senate is so excited to share in the Homecoming festivities with everyone next week, said Advisor Jamie Harms.
Friday, September 23 Events Schedule
8 a.m. - Homecoming Alumni Breakfast, MWHS cafeteria
5 p.m. - Homecoming Parade (from Hilltop to MWHS)
5-7 p.m. - Homecoming Carnival outside Haddorff Field
7 p.m. - White Hawks Football Game vs. DeLaSalle
8 p.m. - Homecoming Bonfire outside Haddorff Field
---