Return to Headlines
Congratulations to the Class of 2022!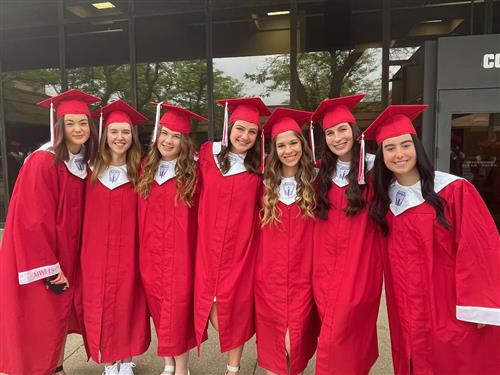 Click on the above image for more photos from Graduation 2022.
June 2, 2022 — Amid pomp and circumstance, Mound Westonka High School honored the 195 members of the 2022 graduating class June 1 at an outdoor ceremony on Haddorff Field. The Class of 2022 enthusiastically accepted diplomas in front of family, friends, teachers and school staff.
"Thank you for sharing this day with us to focus on the accomplishments of this fine class," MWHS Principal Mark McIlmoyle told the audience in his opening remarks. Looking back at the last couple of years, he said, this class is a "story of resilience."
"Think of your individual challenges to get to this day," McIlmoyle said to the graduates. "I encourage you to think about your memories, but hit pause on those challenges, because today is all about looking forward, not backward. Each and every one of you is celebrated today."
President Jake Gaylord greeted his fellow graduates on behalf of Student Senate, while Lindsey Gunderson served as graduation emcee. Students chosen to speak were Ingrid Aufderheide and Haakon Erdahl.
Celebratory videos recognized success in athletics, academics, activities and the arts. A faculty video shared messages to the Class of '22 from staff members across the district. The MWHS band presented "Invicta" by James Swearingen and members of the Madd Jazz vocal ensemble performed "The Road Home" by Stephen Paulus.
Superintendent Kevin Borg announced with "great pleasure and a bit of emotion" that these students have met the graduation requirements. "We're going to miss you," said Borg. "But we know you're ready for what's next, even though we might not quite be ready."
Students gave Amy DiGaudio and Greg Sullivan the prestigious honor of reading the class roll. Diplomas were conferred by school board members Loren Davis and Gary Wollner.
Students graduating Summa Cum Laude included Kathryn Butler, Kathryn Collins, Hannah Drill, Hannah Hall, Annabelle Hommer, Quinn Jenson, Mercedes Lano, Blake Lee, Collette Sir, Ann Springer, Andrew Hunter, Leah Maslowski, Elizabeth McCue, Henry Kluever, Owen Paul, Allison Soule, Max Swanson, Clara Hughes, Jake Gaylord, Lauren Hildahl, Isadora Chang, Sara Olson, Anna Elliott, Juliet O'Flanagan, Montana Courneya, Morgan Bullock, Haakon Erdahl, Isabel Newell, Joel Howarth, Greta Ness, Quinn Vochko, Meagan Mattson, Lucia Rivers, Mason Brakemeier, Grace Dahm, Megan Wanner, Hallie Dierbeck, Lawrence Nemecek Jr., Jordan Anderson, Maximillian Epsky, Seth Worden, Mckenna Kirscht, Peter Borg, Stephanie Anderson and Dylan Helman.
Magna Cum Laude graduates were Madeline LaJoy, Caleb Abernethy, Ingrid Aufderheide, Gabrielle LaFortune, Audrey Biglow, Ellerie Anderson, Manuel Jordan, Cooper Kantola, Karina Kebernik, Aria Weinberg and Noah Jordan.
Cum Laude graduates included Wyatt Carlson, Jake Dallman, Ella Rose Walters, Eleanor Becker, London Weinberg, Jacob Peterson, Anna Reier, Eric Larson, Emma Maruska, Isabella McCullough, Kalkidan Hagen, Gabrielle Lund, Griffin Meisel, Thailiek Surinta, Anne Gough, Morgan Witte, Alec Hruby, Beckett James and Taylor Jemtrud.
"Success is defined by your own progress, not by measuring yourself against someone else's definition of it," said McIlmoyle in his closing remarks.
2022 Mound Westonka High School Graduation Program
'Senior Walk' Tradition Continues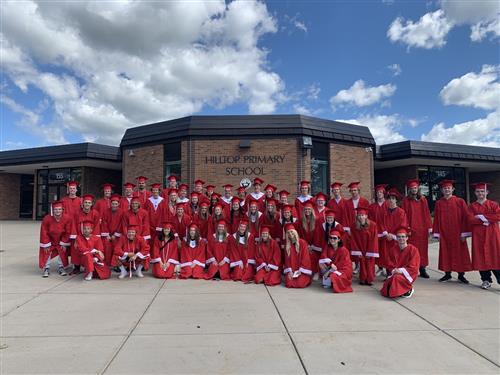 Click the above image for more photos of the Class of 2022 Senior Walk
On the morning of graduation, the Class of 2022 took part in the treasured Senior Walk tradition, which started in 2018. Graduating seniors paraded through the campuses of Hilltop and Shirley Hills primary schools, as well as Grandview Middle School.
The walk is meant to inspire the young students, who greeted the graduates with cheers and handmade signs, as they shared in the excitement of graduation. The graduating seniors had the opportunity to see their favorite teachers and look back on their former schools in one of their last activities as a class.
---