Return to Headlines
Wolf Ridge Welcomes Westonka Fourth Graders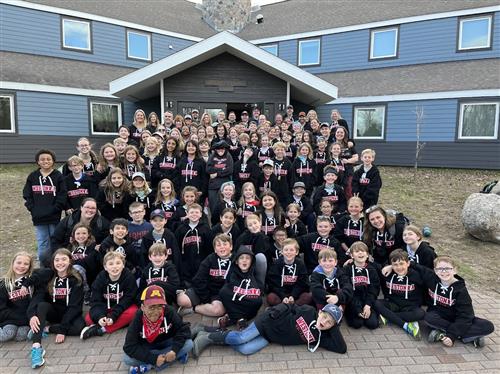 Click on the above image for more photos from the Shirley Hills Wolf Ridge trip.
June 1, 2022 — Making memories that will last a lifetime, Westonka's fourth grade students, along with a group of staff and parents, spent an exciting week at the Wolf Ridge Environmental Learning Center in Finland, Minnesota. This year, Shirley Hills Primary School students visited Wolf Ridge May 16-20, while Hilltop Primary School fourth graders made the trip May 23-27.
Students spent the week learning about the environment and had opportunities to participate in a variety of activities, including voyageur life, Ojibwe heritage, small mammals, wetlands ecology, ropes course, indoor rock climbing and birds. Other activities included paper making, rope making, mystery skulls and block printing.
"We were thrilled after a two-year forced hiatus to be able to experience this incredible week together," said Shirley Hills second grade teacher Deb Loomis. "It was an amazing week immersed in nature and outdoor science school.
The Wolf Ridge experience stays with many students for a lifetime. The trip is often mentioned as a favorite memory of school days and is even noted in some graduation speeches.
"The weather was great, especially the first two days, and again on Thursday and Friday morning," said Hilltop fourth grade teacher Craig Schmidt. "Wednesday was a little more challenging, but it was fun to see the kids work hard and keep the learning and the fun going even through constant drizzle. They definitely showed their resiliency!"
Schmidt said the group was lucky to stay in the newly remodeled Margaret A. Cargill (MAC) Lodge on campus, which has a "Living Building" designation, with a zero-carbon footprint and an energy equity balance. Read more about the MAC Lodge on the Wolf Ridge website.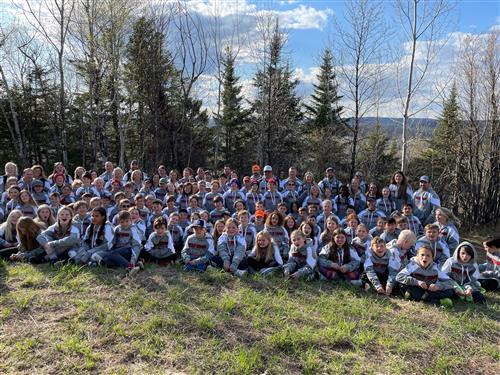 Click on the above image for photos from the Hilltop Wolf Ridge trip.
"As co-directors, Theresa and I were so impressed with the group effort, and so proud of how the entire Hilltop family handled themselves all week," said Schmidt, noting that their parent group was "phenomenal" this year. "They worked so hard and were consistent with their effort and focus, yet were flexible as needed the entire week, helping guide all of our kiddos to a successful week of learning and growth."
"There is nothing like being in 2,000 acres of pure nature!" added Loomis.
Students and parents at both schools participate in a variety of fundraising activities to help cover the cost of the trip.
Wolf Ridge is a nationally respected and accredited K-12 school and residential learning center. The educational activities immerse participants in nature exploration, cultural history, outdoor skills, team-building, and personal growth.
---