Return to Headlines
Westonka Transition Plus Hosts 5K Event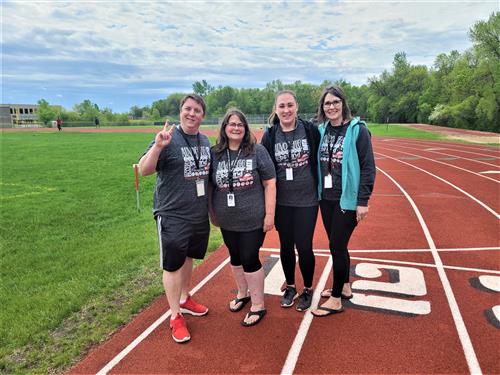 Click on the above image for more photos from the 5K event.
May 24, 2022 — The Westonka Public Schools Transition Plus (T+) Program hosted a 5K for other transition programs in the area on May 20. About 80 participants took part in adaptive activities in the grassy area in the middle of the high school track. Bleachers were set up for students and staff to take breaks, and Westonka's T+ Program provided prizes for participants at the end of the event.
"It was a great showcase of our T+ Program, as well as the students and staff within it, and a great time to shine our leadership in the community," said Dr. Emily Rustman, director of special services.
The 5K event was the first ever for the T+ Program. Teacher Kayla Dalbey explained that earlier this year she was setting fitness goals for her seven students and working out in the Westonka Activity Center. She joked that they should all train for a 5K and said her students thought she was crazy!
But the thought stayed with her – how could a group of individuals with a variety of disabilities participate in a traditional 5K? The dream became a reality by creating their own 5K where students with physical disabilities could be pushed easily in wheelchairs, students with sensory issues could participate or not, depending on how comfortable they felt, and individuals who were not able to train for the full 5K could come and just do as much as possible.
"It was amazing!" said Dalbey. "The other schools have already asked if we can make it an annual event."
The students in Westonka's program promoted the event and reached out to local businesses to see if they would like to provide some prizes and water for the participants. The program would like to thank several local businesses that provided gift cards, prizes and cash to purchase prizes and supplies.
"We are so thankful for our students and the community for the support of our T+ Program," added Rustman.
About the Transition Plus Program
Westonka Transition Plus is a secondary special education program, located within Mound Westonka High School, designed for students with disabilities who are between the ages of 18 and 21. The program offers a functional and vocational curriculum with an instructional focus on the acquisition of skills necessary for independence within the community. Students must be in special education programming a significant portion of the day and demonstrate transition needs to be eligible to attend.
Students attending Transition Plus receive an individualized education program, with a focus on functional reading, writing, math, work experience, and social and home-based living skills.