Return to Headlines
Westonka Introduces Next High School Principal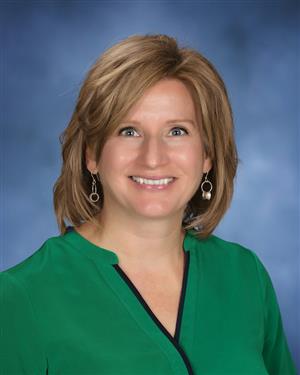 May 23, 2022 — Westonka Public Schools is pleased to announce the hiring of Jolene Herfel as the next principal of Mound Westonka High School. Herfel will replace Mark McIlmoyle, who is leaving the district to take on the role of Director of Professional Development with South Washington County Schools.
"We were fortunate to have high-quality candidates apply for the MWHS principal position, which speaks to the strong reputation of the high school and the Westonka community," said Westonka Superintendent Kevin Borg. "Ms. Herfel's wealth of experience, leadership skills and loyalty to her school community are what really made her stand out during the selection process. She values and forms strong relationships, and we're excited to see this take place in Westonka."
Herfel currently serves as assistant principal of St. Michael-Albertville High School, a position she has held since 2011. In his recommendation letter, STMA High School Principal John Reeves highlighted Herfel's courage, commitment to excellence and passionate leadership qualities. "It is my conviction that her depth of character, depth of understanding, ability to learn quickly and inner motivation make Jolene well suited for this leadership position," wrote Reeves.
Herfel's educational background includes a bachelor's degree in teaching from the University of Minnesota Duluth, and a master's degree in education and education specialist degree in educational administration from St. Mary's University. Herfel taught social studies for 10 years at STMA High School and served two years as dean of students prior to becoming assistant principal.
Herfel was instrumental in the creation of the Freshman Connections and Mentorship program at STMA High School and has served on numerous leadership committees in the district. In 2017, she was named the Central Minnesota Association of Secondary School Principals (MASSP) Assistant Principal of the Year.
Herfel also had the unique opportunity to serve as interim principal of STMA Middle School in the 2019-2020 school year during the principal's medical leave. During Herfel's final weeks in that role, Minnesota schools were forced into distance learning in response to the COVID-19 pandemic.
"Through [Herfel's] guidance, collaboration and foresight, she was able to navigate a large staff during a very challenging and unprecedented time," wrote Robert Driver, former STMA High School principal and current MASSP director. "There was not a playbook to help guide her, but she was successful in steering the building into distance learning."
Herfel is looking forward to serving the students, staff and communities of MWHS in the principal role.
"I am excited and honored to be chosen to lead the exceptional students and staff at Mound Westonka High School," Herfel said. "I am confident that my professional leadership and strengths will complement the existing culture, deepen our partnerships with the community, and challenge the school to become even stronger."
Herfel lives in Rogers with her husband, Jason, and two teenage children, Emma and Alyson. She will begin serving as Mound Westonka High School principal on July 1 and looks forward to connecting with students and parents during Fast Start in August.
---