Return to Headlines
MWHS Honors 2022 Senior Athletes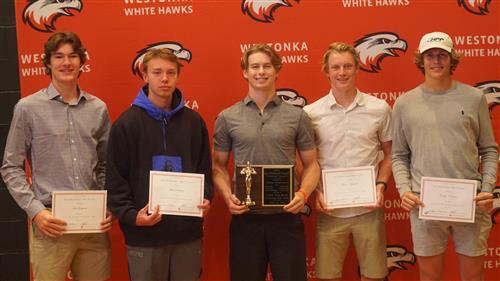 Yost-Haddorff-Leopold Memorial Award winner Tyler Von Bank, center, is joined by award candidates Jake Gaylord, Jake Dallman, Lance Nemecek and Cooper Kantola. Michael Doshan is not pictured.
Click on the above image for more photos from the celebration.
May 20, 2022 — Each year, Mound Westonka High School celebrates standout athletes from the graduating class. This year's celebration took place on May 19 in the Little Theater, with student-athletes and their parents in attendance. Included in this year's recognition are the Yost-Haddorff-Leopold and Athena Award nominees and winners, as well as senior three-season athletes, declared college athletes and state tournament participants.
Activities Director Jeff Peterson recognized and congratulated the senior athletes on their accomplishments:
"Congratulations to the Class of 2022! Your efforts, commitment, dedication and influence have made MWHS and our athletic programs better. You have left a positive impression at MWHS and will not be forgotten. Remember that White Hawks soar together and stick together! Best wishes to you all! Special congrats to all the Athena and Yost-Haddorff-Leopold nominees and to Hannah Drill and Tyler Von Bank as being selected by the MWHS head coaching staff as the 2022 recipients."
Triple 'A' Winners
Hannah Drill and Lance Nemecek were recognized as this year's school-level Minnesota State High School League Triple "A" winners. The Triple "A" program rewards a senior boy and girl in each high school in Minnesota for outstanding achievement in Academics, Athletics and the Arts.
[Read more about the 2021-2022 Triple 'A' winners]
State Tournament Participants
Peterson also recognized seniors who competed at state this year.
The Section 6AAA Champion boys basketball team made a historic trip to the state tournament, where the White Hawks finished fifth overall in the program's first trip to state since 1974. Seniors competing on the team were Jason Spaeth, Max Swanson, Tyler Von Bank, Jake Dallman, Jake Gaylord and Jack Eberhart.
Continuing a long tradition of success, the MWHS jazz dance team competed at state for the 15th consecutive year and broke into the finals, finishing fourth overall—for the fourth consecutive year. The team also reached the state finals in kick, where they also finished fourth in an extremely close-scoring field of competition. The Hawkettes earned the Team Academic Award. Seniors competing at state in dance were Hallie Dierbeck, Lauren Hildahl, Ellerie Anderson, Juliet O'Flanagan, Gabrielle LaFortune, Morgan Witte, Ingrid Aufderheide, Clara Hughes and Selamnesh Gough. Dierbeck, Hidahl, Anderson and O'Flanagan were named to the Wells Fargo All-Tournament Teams.
The White Hawks' second-place finish in the 1A state boys tennis tournament in spring 2021 was the best in team history. Senior members on the team included Quinn Vochko, Blake Lee and Max Epsky.
Competing on the girls cross-country team, which finished ninth at state, was senior Allison Soule. Senior Lance Nemecek was an individual state qualifier in boys' cross-country after winning the conference championship for the WCC East.
Senior Annie Springer competed on the girls swim and dive team, which earned a sixth-place finish at the Class A State Tournament. She also qualified to compete as an individual in the 100 butterfly, where she finished 11th.
Athena Award
Hannah Drill represented Westonka at the 50th Annual Athena Awards, which recognized more than 50 senior women from public and private high schools in the Minneapolis metro area. Drill was recognized locally for winning both the Athena and Yost-Haddorff-Leopold outstanding female athlete awards. Drill was a standout athlete on the White Hawks volleyball, basketball and softball teams.
"Hannah Drill is an outstanding representative for the 2022 MWHS Athena," said Activities Director Jeff Peterson. "She is a great teammate, works hard and has set high expectations for herself and her teammates."
In addition to sports, Drill is a member of the National Honor Society, the MWHS Rotary Interact Club and the Fellowship of Christian Athletes. She is a Link Crew leader and a member of the Environmental Club. Drill was also the winner of the ExCEL Award and the Triple "A" Award.
Other finalists for the 2022 MWHS Athena Award were seniors Allie Soule, Annie Springer, Megan Wanner, Anna Elliott, Montana Courneya, Libby McCue, Ellerie Anderson, Lauren Hildahl and Hannah Hall.
[Read more about 2022 Athena winner Hannah Drill]
Yost-Haddorff-Leopold Award
This year's male Yost-Haddorff-Leopold Award winner is Tyler Von Bank. The other nominees for the 69th annual outstanding male athlete award were Jake Dallman, Michael Doshan, Jake Gaylord, Cooper Kantola and Lance Nemecek.
The award began as the Yost Award in 1953, honoring the late Frank Yost—a local pharmacist and ardent community sports supporter, who died in 1952. In 1994, the award became the Yost-Haddorff-Leopold Award, also honoring the memories of Oscar Haddorff, who died in 1970, a year after retiring as a 25-year MWHS teacher, coach and athletic director; and Cory Leopold, a 1988 MWHS graduate and standout high school and college wrestler, who was killed in a car accident in 1993. The scholarship component was added to the award at that time and is given to the school's top male and female athletes.
Von Bank is a three-sport athlete, excelling in football, basketball and baseball. He has also earned four letters and holds multiple school records for his efforts in the strength and conditioning program.
A three-year starter on the football field, Von Bank led the team in both touchdowns and sacks this year. Von Bank was team captain, team MVP, team Ironman and team Defensive MVP. He was a member of two district championship teams and one district runner-up team. He was also named to the 2022 Minnesota All Star team, where he scored his team's only offensive touchdown.
Von Bank was a member of the state consolation champion basketball team, which made its first trip to state in 48 years. Von Bank was team captain and a four-year letter winner. The basketball team was conference champion all four years Von Bank was a team member, with a team record of 77-26.
A four-year starter in baseball, Von Bank was named All Conference and received four letters.
Von Bank has favorite memories for each of his sports, but says he really loves the "small things" that come with playing with guys he really cares about. "The bus rides, going out to eat after games and pre-game festivities are some of my favorite memories," he said. Playing at Williams Arena in the basketball state tournament in front of over 700 students and fans will always be one of his favorite moments.
Von Bank also coached in youth camps for all three of his sports. "I am proud of my reputation for making good decisions and being a positive role model for the next generation of White Hawks," he said.
Declared College Athletes
Athletes who have committed to playing at the collegiate level include:
Megan Wanner - Rockhurst University (Soccer)
Cooper Kantola - Junior Hockey at North Iowa (Hockey)
Allison Soule - St. Olaf (Indoor and Outdoor Track and Field)
Lance Nemecek - St. Olaf (CC and Indoor and Outdoor Track and Field)
Ryan Butler - Minnesota State University Moorhead (Football)
Kellen Baklund - DeSales University (Lacrosse)
Joe Zachow – Augsburg (Football)
Jake Gaylord - Bowdoin College (Football)
Three-Season Athletes
Also recognized were 19 MWHS senior three-season athletes: Jake Gaylord, Alec Hruby, Cooper Kantola, Henry Kluever, Allison Soule, Annie Springer, Drew Swanson, Jake Dallman, Michael Doshan, Hannah Drill, Anna Elliott, Josh Engesser, Maximilian Epsky, Haakon Erdahl, Gabrielle LaFortune, Lance Nemecek, Jacob Peterson, Tyler Von Bank and Megan Wanner.
---