Return to Headlines
MWHS Bands Present 2022 Senior Awards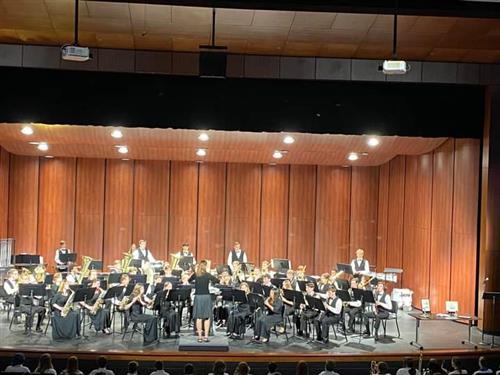 Click on the above image for more photos from the spring band concert.
May 17, 2022 — The Mound Westonka High School bands performed their annual spring concert on May 9 on the Westonka Performing Arts Center stage. In addition to presenting an entertaining evening of music, the event provided an opportunity to recognize letter winners and present the traditional senior awards.
Band director Gretchen Chilson presented her 12 seniors with personal good-bye letters. "Each of these students has left a mark on this program in their own way … their perseverance, grit and leadership are just as important as their musicianship," she said.
This year's band seniors include Ingrid Aufderheide, Kathryn Butler, Matthew Carlson, McKayla Henderson, Olivia Henningsgaard, Henry Kluever, Emma Maruska, Griffin Meisel, Cassie Mueller, Connor Nelson, Lance Nemecek and Seth Worden.
A total of 40 students received a varsity letter in band, meaning they had participated in band related projects for a required number of hours outside of the school day.
"The time and effort these students put in helps the band, helps individual students to better their own playing, and in many cases helps the community at large," said Chilson.
Students were honored for their performances in solo and ensemble contests, and for their leadership on the band councils. The Westonka Band Boosters also received a shout-out for their amazing support of the band programs.
Eighth grader Carly Durr was named Most Improved Concert Band student for her continued effort and growth, as well as her contribution to the success of the band. Sophomore Andrew Wood was recognized as Most Improved Symphonic Band member for his extra efforts in after-school lessons and being a great role model for how to continually improve in band. Senior McKayla Henderson was named Most Improved Wind Ensemble for her tremendous growth over her five years in band.
The traditional senior awards were also presented at the concert.
Kathryn Butler was the recipient of the Patrick S. Gilmore Award, named to honor the legendary 19th-century bandmaster. The award honors a senior student for musicianship and dedication. "Kathryn is one of those people who just always does the right thing, is always courteous and is always doing her best work," said Chilson. "She is meticulous in her musical accuracy and is kind when helping others raise their musicianship. She is responsible and dedicated, and she will be missed!"
Jazz Band director Kevin Fuhrman presented the Louis Armstrong Jazz Award to Henry Kluever for outstanding musical achievement and incredible dedication to the jazz program. The award is known as the highest-level interscholastic award given to high school jazz students.
Seth Worden was honored with the John Philip Sousa Award, which recognizes superior musicianship and outstanding dedication in honoring the top student in the high school band. Introduced in 1955, the award has become a nationwide symbol of excellence in musical achievement and is so prestigious that each school is only allowed to recognize one student per year with this honor.
"Superior musicianship and outstanding dedication - those describe Seth so very, very well," said Chilson. "It's hard to imagine what our music programs would look like without him. He is always willing to work a bit harder, always willing to help out when needed, always willing to keep learning. And perhaps more importantly…always with a smile."
In addition to the seniors, Chilson also had a good-bye message for Jazz Band director Kevin Fuhrman, who is moving to Arizona. Over the past decade or so, Fuhrman has also served as percussion coach, drumline instructor, pep band director and band council coach.
---