Return to Headlines
Appreciation Breakfast Honors Link Crew Leaders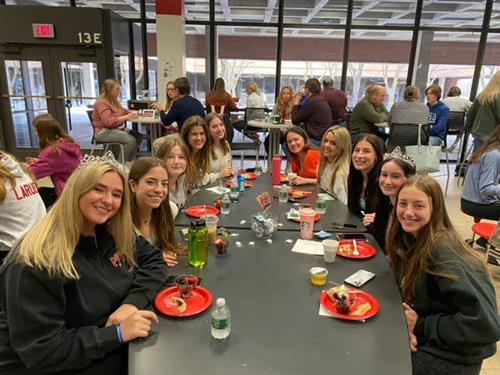 Click on the above image for more photos from the Link Crew breakfast.
May 16, 2022 — Mound Westonka High School hosted the largest crowd ever of parents and leaders at the annual Link Leader Appreciation Breakfast on May 5. A total of 117 junior and senior Link Crew leaders were joined by over 130 parents for the celebration.
The morning began with a light breakfast catered by the Westonka Foodies, followed by a short program in the Westonka Performing Arts Center. Students were celebrated and honored with certificates, thank-you cards from the Link advisors, and a keychain link as a token of appreciation.
"Link Crew is such a great program for all of our students who are involved," said Assistant Principal Marty Fischer. From eighth and ninth grade incoming students to 11th and 12th grade leaders, Link Crew gives students the chance to make a connection. Students coming to MWHS find a mentor right away and the mentors are given the chance to make a difference in the lives of the youngest MWHS students as soon as the school year starts.
Jennifer Bormes is the Link Program Coordinator, while this year's Link advisors are Molly Carlson, Meagan Lenz, Wendy Richards and Sara Schwartz.
Bormes offered an administrative "thank you" to Marty Fischer, Mark McIlmoyle and Kevin Borg for supporting Link Crew at MWHS for the past 17 years.
Link Crew also extended a special thank you to Kristin Pardue and Brad Von Bank, whose financial support made it possible for Link Crew to thank their leaders and celebrate their commitment to the program.
"Having a chance to recognize how big of a deal this is and to honor their service is such a great use of our time," said Fischer. "Jen Bormes and her incredible team continue to adapt to the changes that are required of programs like this as they survived during the pandemic. Protecting the mentor/mentee relationship and building these connections are at the forefront of every single decision."
Congratulations to this year's Link Crew leaders!