Return to Headlines
Westonka Staff Gather for Celebration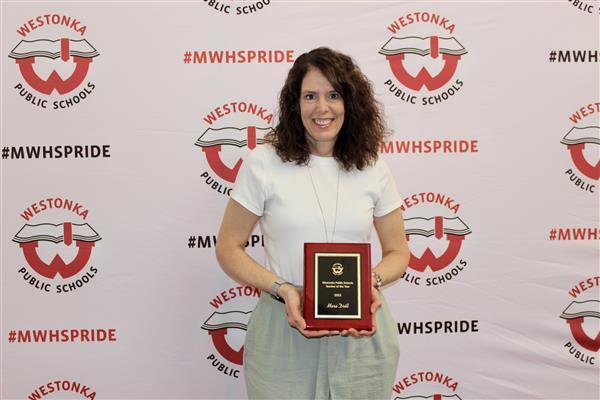 The 2022 Westonka Teacher of the Year, Mara Drill, was honored at the Staff Recognition Event May 6.
Click the above image for more photos from the event
May 12, 2022 — Excitement was in the air May 6 when Westonka Public Schools staff and community members gathered in the Westonka Performing Arts Center for the first in-person staff recognition event since the spring of 2019. The morning's program honored staff who had reached years of service milestones, the building and Westonka Teachers of the Year, the winner of the Ann Bremer White Hawks Award for community volunteers, and the district's 2021-22 retirees.
Shirley Hills Primary School principal Scott Eidsness served as emcee for the celebration, and entertainment was provided by Mound Westonka High School MaddJazz vocal group.
Long-time staff honored for years of service
Superintendent Kevin Borg and Westonka School Board Clerk Loren Davis recognized long-time staff for their years of service to the school district.
Recognized for 15 years of service
Melissa Abernethy

Kristin Couser

Scott Eidsness

Scott Innes

Megan Lhotka

Julie Thomas

Jason Tuttle
Recognized for 20 years of service
Laurie Bonier

Kim Collins

Krista Fisher

Deborah Loomis

Katherine Rutledge
Recognized for 25 years of service
Kevin Borg

Kristi Henkels

Michael Nelson

Irina Otterson

Robert Paul

Lynne Peterson

Eric Rodelius

Craig Schmidt

JeanAnn Thayer
Westonka celebrates Teachers of the Year
Representing each of the district's school buildings, the 2021-22 Teachers of the Year were nominated by their colleagues for their exceptional commitment to student learning. Lyndsay Geyen from Westonka Early Learning, Jodie Rasicot from Shirley Hills Primary School, Bailey Fowler from Grandview Middle School and Amy DiGaudio from Mound Westonka High School were honored along with 2022 Westonka Teacher of the Year Mara Drill from Hilltop Primary School.
"Teacher of the Year is a recognition effort that highlights the teaching profession and the talented people that fill these positions," said Superintendent Borg. "This process allows us the opportunity, through the stories of a few, to thank all teachers for the difference you make in the lives of our kids."
In speaking of the 2022 Westonka Teacher of the Year, Hilltop Principal Mike Moch said, "When you hear the name Mara Drill, you immediately think Westonka. Mara exemplifies what it means to be a White Hawk. She works tirelessly for her students, her school and her greater community."
When accepting her award, Drill told her colleagues in the audience:
I believe that we are in the best district in the state. As a teacher, I'm always amazed at the progress we've made, the test scores we've achieved and the traditions we've continued. When our kids started at preschool at Hilltop, the teachers and community education opportunities amazed me. Once they moved into middle school and high school, the opportunities became more and more abundant. This was because of many of you sitting here right now. Your patience, dedication and commitment to making Westonka the best place does not go unnoticed.
Hvezda-Lehtola honored for service to Westonka Schools
Also recognized during the program was Tracy Hvezda-Lehtola, the 2021-22 recipient of the Ann Bremer White Hawks Award. The purpose of the annual community award is to recognize exceptional service to Westonka Schools.
The award, which began in 2015, is named in honor of the late Ann Bremer, Westonka School Board member from 2004 to 2017, whose record of service as a district parent, community member and on the school board characterizes the contributions made by the award nominees. Bremer passed away in February 2017 after a courageous two-year battle with pancreatic cancer. Superintendent Kevin Borg told the audience that the award epitomizes Bremer's spirit and her commitment to public education. There to hand out this year's award was Ann's daughter Paige Kimball.
Hvezda-Lehtola was honored for many years of service to the district, beginning before she even had children in school and continuing to the present day. As a children's librarian in the Westonka branch of the Hennepin County Library system, Hvezda-Lehtola sought to offer students at Grandview Middle School extra services, like summer book clubs, and she provided help for parents with technology and programming. She has consistently participated in big ways and small ways like accompanying teachers on field trips or being a tireless worker for an event.
Shirley Hills Primary School Media Specialist Deb Loomis nominated Hvezda-Lehtola for the award. She said Hvezda-Lehtola continues to be an advocate for literacy in the district and initiated bringing in authors for student exposure and inspiration. Hvezda-Lehtola has been a Read-A-Thon coordinator and worked on a school-wide goal to promote reading. She faithfully donated countless hours to the Shirley Hills carnival and served as Wolf Ridge parent coordinator. She is also active on the Westonka Community Theatre Board.
"Tracy has a positive, gentle, quiet way of contributing," wrote Loomis. "She is a true blessing and asset to our district and community. Our school and district have greatly benefitted from her dedication and willingness to give."
Westonka bids farewell to seven retirees
To close out the program, the 2021-2022 Westonka retirees—Debra Gibbs, Carol Pomeroy, Dena Spanjers, Colleen Mitchum, Faye Teske, Lynne Laube and Susan Simonson—were recognized and thanked for their service with Westonka Schools. Retirees in attendance were asked to say a few words, and those unable to attend were invited to share a photo and written remarks.
[Read the retirees' submitted remarks]
The complete May 6 Westonka Public Schools Staff Recognition presentation is available to view on YouTube.
---