Return to Headlines
Westonka Shows Staff Appreciation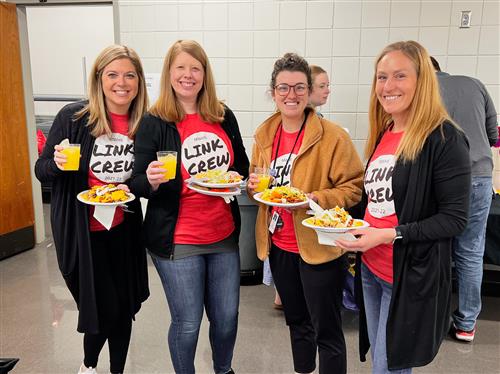 Click on the above image for more photos from staff appreciation week.
May 11, 2022 — Teacher Appreciation Week is designated during the first week of May as a time to honor the individuals who lend their passion and skills to education. At Westonka, each school celebrated their special teachers and staff members in their own unique way.
"We are fortunate to have truly exceptional educators at Westonka Public Schools, and it's important to take every opportunity to recognize and thank them for their dedication to helping every student find success," Superintendent Kevin Borg wrote in his May 6 Borg report.
At Hilltop Primary School, the PTA wowed staff members once again! They kicked off the week with flower sales, which enabled each student to purchase tulips to share with their teacher. The lounge was filled with snacks and beverages throughout the week and lunch was provided on Wednesday. The week wrapped up with personal thank-you notes to each staff member and a little gift card of thanks.
Shirley Hills used the opportunity to celebrate the school's retirees and years of service staff with cake and an informal reception. The PTA provided boxed lunches and sodas for all staff on Tuesday, while paraprofessionals treated teachers to soups and salads on Wednesday. The PTA provided a nacho bar for all staff members on Thursday to wrap up the week.
On Monday, the Grandview Student Council supplied staff with donuts, bagels and other goodies to power up for the week ahead. Staff members were treated to an ice cream sundae bar on Tuesday, while the Student Council delivered gift bags with treats and notes to all staff on Wednesday. The Grandview PTO sponsored a Mexican luncheon for all staff on Thursday. Principal Christy Zachow said it was safe to say the staff felt appreciated (and full) by the end of the week.
Teacher appreciation activities at MWHS were put together by the Friends of MWHS, led by parent Jennifer Velarde and other parents. "Our goal is to provide community at MWHS with staff, students and their families," explained Velarde. "We focus on service and the needs of everyone at MWHS."
Friends of MWHS, with the help of many donations from parents, had a weeklong celebration of the school's amazing staff. The week started with a popcorn buffet, followed by a grab-and-go breakfast, then came a sweet day of decadent desserts— including the famous desserts by Deb Gibbs. Staff celebrated Cinco de Mayo with a nacho bar and faux margaritas. A prize drawing was held on Friday, the last no-school day of the year.
Thank you to all of Westonka's hard-working staff members!
---