Return to Headlines
Westonka DECA Students Earn Top Honors at Internationals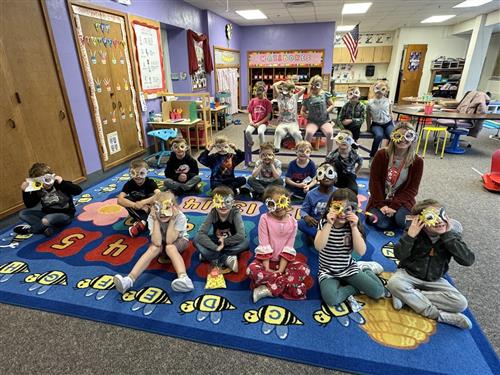 Mound Westonka High School seniors Blake Lee and Anna Reier celebrate their first-place win at the 2022 DECA International Career Development Conference in Atlanta.
May 2, 2022 — Mound Westonka High School sent 30 students to the 2022 DECA International Career Development Conference (ICDC) April 23-26 in Atlanta, where they competed against 22,000 business and marketing students. Seniors Blake Lee and Anna Reier were awarded first place for their Integrated Marketing Campaign - Service and took home an elusive glass trophy.
Westonka DECA advisor Sue Simonson said, "The level of competition at ICDC is crazy, so it was incredible to watch our senior co-presidents win first place in their marketing campaign after two years of either losing the opportunity to compete or competing virtually!"
Junior Ellen Pruitt also advanced to finals at Internationals for her Integrated Marketing Campaign - Service, finishing in fourth place. ​​Sophomore Natalie Miner and juniors Avery Roerig and Laura Sunnarborg took sixth place for their "Like A Girl" Chapter Project.
Juniors Savanna Newell and Maureen Reily also advanced to finals for their financial services team role play. Senior Haakon Erdahl earned a high test score medal for the hospitality exam, and senior Coco Sir earned a high role play medal for the Sports & Entertainment role play.
MWHS had the third-highest contingent of Internationals competitors of any Minnesota school this year. Also competing at ICDC were sophomores Olivia Adam, Gabriella Larsen and Sammy Krahl; juniors Annika Hoisington, Paige Ostrowski, Abby Hollenstein and Brekken Thompson; seniors Hallie Dierbeck, Jake Gaylord, Nikki Zucaro, Hannah Hall, Annie Springer, Stephanie Anderson, Meagan Mattson, Samantha Pickert, Kathryn Collins, Quinn Jenson, Mason Brakemeier and Kathryn Butler; and foreign exchange student Felicia Klassen.
"As I reflect on my 15th year as a DECA advisor, I couldn't be more grateful to have the opportunity to travel with our chapter to ICDC in Georgia and compete once again in person," said Simonson. "I am so proud of our 30 students and the hard work they put into their competitive events. I look forward to next year and the sophomore and junior competitors that will help lead the Mound Westonka DECA Chapter!"
ABOUT MOUND WESTONKA DECA
DECA is the leadership network that prepares students for careers in finance, hospitality, marketing, and management. Through real-world experiences and classroom curriculum, DECA gives students a competitive edge for college and career success. In addition to competitions, the MWHS DECA chapter spends time participating in community service, attending leadership conferences, and participating in a variety of other business events.
---