Return to Headlines
Ilana Andrev Invited to Speech Contest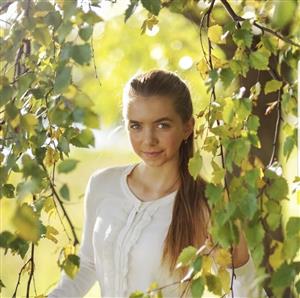 October 15, 2021 — Mound Westonka High School junior Ilana Andrev, one of the speech team captains, will compete in an oratorical contest at the Minnesota State Capitol on Saturday, October 23. "Speaking Proudly" is a biannual competition which seeks to promote public speaking on a topic relating to United States civics for young women in grades 9-12. The top three speakers that day will earn cash prizes of $2,000, $1,500 and $1,000, respectively.
The competition is billed as a way to promote critical thinking, writing and public speaking skills in high-school aged women. Andrev was selected to compete based on a one-page essay she wrote and sent in on the contest's topic: "A More Perfect Union, Rising to the Challenge".
This is the second iteration of this competition, the first in 2019, when only 17 young women made it through this initial essay portion. Andrev received notice in late September that she had been selected to advance to the contest and since then has written her eight minute speech by expanding on her initial essay and memorizing it. She has also been practicing performing it regularly.
In addition to the speaking portion of the competition, Andrev will also receive a tour of the Capitol building and is bringing her dad to watch and support her that day.
Although this relatively new contest is not associated with the speech team, speech coach Rhys Jones had received notification of the contest and passed the information along to members of the speech team to see if anyone was interested in the opportunity. Jones said, "Ilana is the only one who decided to take this on, and she's done a tremendous job with both her writing and now her performance!"
Jones invited Andrev to perform her speech at the speech team interest meeting at 6:30 p.m. on October 18 at the Westonka Performing Arts Center, as a demonstration of what speech is all about. Jones noted that the content and structure of her speech could be used within the category of Original Oratory, which is a self-written, persuasive public address category.
"I don't normally have students ready to perform a speech before our season has even begun, so this is going to be a real treat for everyone in attendance," said Jones.
More details about "Speaking Proudly" are available here.
---