Return to Headlines
MWHS Theatre to Perform Spring Play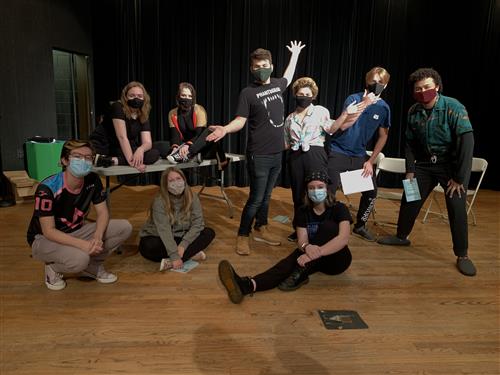 April 9, 2021 — It is with much excitement that Mound Westonka High School Theatre has begun rehearsals for a spring play! Coming to the stage of the Westonka Performing Arts Center, MWHS Theatre will perform David Ives' All in the Timing.

Brimming with smart humor and wacky characters, All in the Timing is a collection of six short plays that comment on relationships, historical events, and the human condition. Whether it's three chimpanzees trying to write Hamlet, a man cursed with being in a "Philadelphia" where nothing seems to go right, or Leon Trotsky reliving his death over and over again, All in the Timing combines slapstick humor with incisive comedic insight that will leave you laughing and thinking long after the curtain falls.
With the changes and challenges that the pandemic presented this last year, MWHS Theatre spent a lot of time finding a show that would allow for smaller ensembles and pod rehearsals but would not lose the concept and ability to put together a full show.
The shows and cast members include:
Play Narrators - Austin Henderson and Serenity Bownik
Sure Thing
Bill(y) - Joshua Nkhata/Mackenzie Wallace
Betty/Bert - Jake Robertson/Eve Mikkelson
Words, Words, Words
Swift - Jack Hanson
Milton - Thomas Duggan
Kafka - Dillan David
The Universal Language
Don - Ben Ortaleza
Dawn - Kate Moch
Young Man - Jake Robertson
Philip Glass Buys a Loaf of Bread
1st Woman - McKayla Henderson
2nd Woman - Haley Kummrow
Baker - John Wombacher
Philip Glass - Joshua Nkhata
The Philadelphia
Al - Hayden Jones
Mark - Connor Houston
Waitress - Gray Paguyo
Variations of the Death of Trotsky
Trotsky - Seth Worden
Mrs. Trotsky - Jenna Courneya
Ramon - Hayden Jones
Student directors include Kate Moch, Jake Robertson, John Wombacher, Joshua Nkhata, Seth Worden, and Jayna Sherman. The entire show is directed by Jamie Harms, with assistant direction from Max Taggart.
Save the dates for a night of great theatre and good comedy. Show dates are May 14 and 15 at 7 p.m. and May 16 at 2 p.m. Limited in-person audience will be allowed and ticketing information will be released closer to the show. A live stream at home option will also be available for each show.
---